Rail Teamsters Authorize Strike at NJ Transit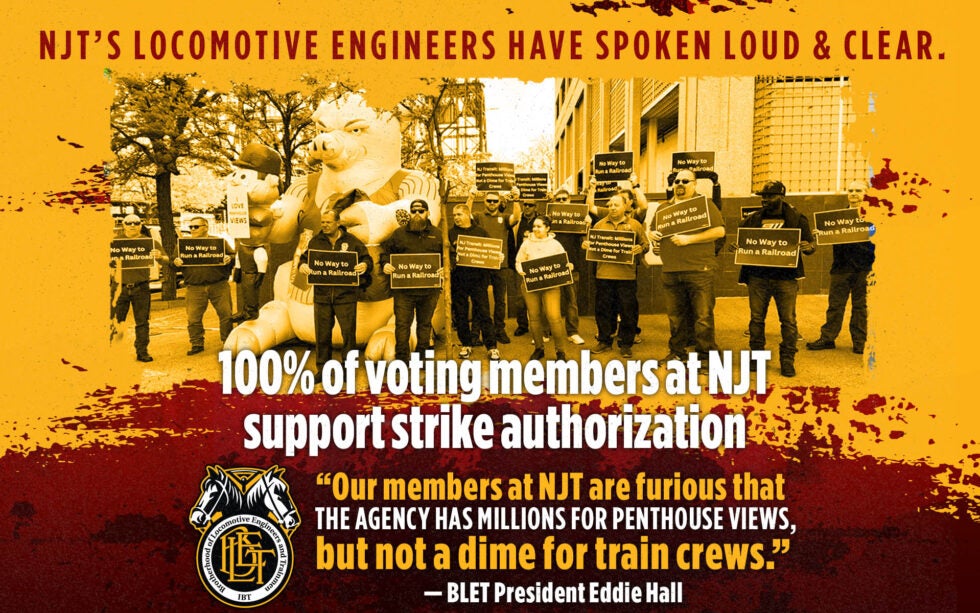 Locomotive Engineers Overwhelming Support Strike Amid Contract Dispute
(NEWARK, N.J.) — The Brotherhood of Locomotive Engineers and Trainmen (BLET) of the Teamsters Rail Conference voted to authorize a strike at NJ Transit.
Ballots were cast by 81 percent of 494 eligible voters who have been fighting for a new contract since 2019. The BLET conducted the vote throughout August.
"NJ Transit's locomotive engineers have spoken loud and clear," said BLET National President Eddie Hall. "Our members at NJ Transit are furious that the agency has millions for penthouse views, but not a dime for train crews who kept the trains running throughout the worst days of the pandemic and haven't had a raise since 2019."
NJ Transit plans to move its corporate headquarters in a move expected to cost the agency $440.4 million over 25 years. Meanwhile, NJ Transit's engineers are among the lowest paid commuter service engineers in the country. The BLET wants NJ Transit to pay its engineers closer to what engineers earn at other commuter railroads.
The BLET is gearing up for a public information and advertising campaign to inform commuters and voters about the contract dispute. All 120 New Jersey Assembly and Senate seats will be on the ballot this fall.
"We will keep up the fight and use every lawful tool to reach a contract settlement," said Hall.
« Previous
Next »