Hoffa Hits The Road To GOTV In Philadelphia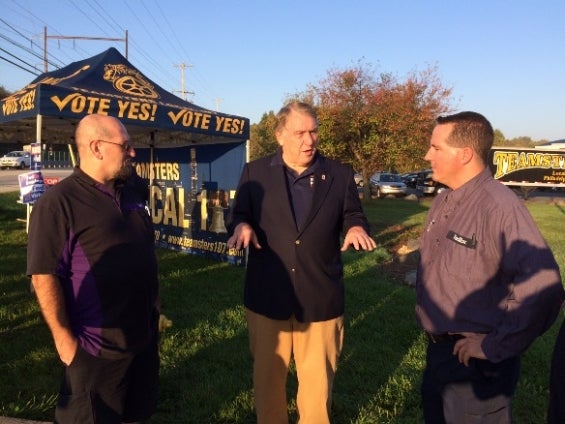 Teamsters General President Jim Hoffa visited more than 150 members employed by Penn Auto Team today, urging them to get out and vote on Nov. 4. See more photos, here.
"We all know that Pennsylvania has been going in the wrong direction for years, it's up to each and every one of you to exercise your right to vote and help get this state heading back in the right direction," Hoffa said. "As strong as we are as a union, you have to vote for politicians that will not stab us in the back. We need to get people in office that believe in us."
Local 107 members that work as mechanics, drivers and loaders at Penn Auto Team recently approved a new, strong Teamster contract. They understand the value of having a union in their corner and want to protect their way of life from the misguided policies that have killed job creation and put corporations ahead of working families.
"I back anyone who backs the Teamsters," said driver Jon Leibig. "I worked 30 years at a hospital and it closed. I was 55 with no job and no hope and then I got this job at Penn Auto with the Teamsters representing me. I've been here four years and the Teamsters have always had my back. We got a great contract and I am grateful for everything the union has done for me."
Hoffa will continue visiting Teamsters worksites around the Philadelphia metro region tomorrow including stops at DHL, a Liquor Control Board distribution center and a Procacci Brothers warehouse. Hoffa will also be visiting the Croydon FedEx Freight yard that voted on Tuesday to join Teamsters Local 107 to become the first FedEx Freight location in the U.S. to organize with the Teamsters.
« Previous
Next »