No Rest for the Benevolent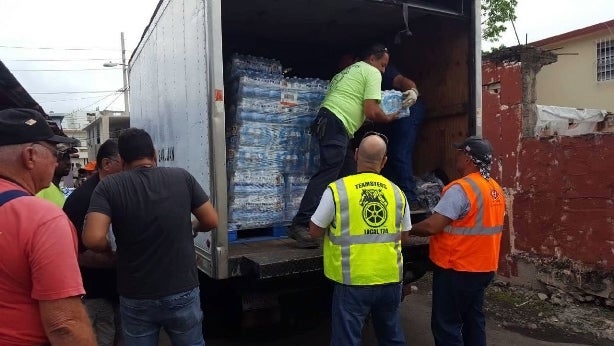 David Renshaw was exhausted. It had been two weeks since Hurricane Irma crashed into his home state of Florida, leaving a massive trail of debris in its wake. As a business agent for Local 769 in Miami, he had been busy working around the clock to get supplies for Florida Keys residents that were temporarily without access to food, electricity, toiletries or clean water. Hundreds of people were depending on him, his local and the team of volunteers he was working with.
Renshaw lived through Hurricane Andrew back in 1992, so this wasn't his first rodeo. Still, the impact of Irma was remarkable to everyone in South Florida, and it was important that the Teamsters were on the front lines of the relief efforts.
"The Keys will rebuild and rebound, but we need to provide a stepping stone for them to be headed in the right direction," Renshaw said. "We've always had great relationships with the employers and the community, but when you're coming down here with multiple trucks containing tonnage of donated goods, it really expresses the humanitarian intent behind the International Brotherhood of Teamsters."
People Helping People in the Florida Keys
In August, Hurricane Harvey turned out to be just the beginning of a very terrible hurricane season on the East Coast, and it was followed by ravaging wildfires in West. Millions of people have been left homeless and the cost of the devastation is in the hundreds of billions of dollars. The loss of life, homes and property has been horrific, but the Teamsters have been helping people rebuild their lives every step of the way.
Renshaw and his team set up shop at a park in the Bahama Village neighborhood of Key West. The fact that it's 90 degrees and humid isn't discouraging Teamster members and their community partners from unloading a packed freight truck. Time is of the essence and nobody can wait for the sun to go down.
Denise McCloud is the pastor at Trinity Presbyterian Church in Key West. McCloud started working with the Teamsters after Renshaw contacted her looking for a partnership distributing relief supplies, and since then they have been working together on setting up community giveaways for residents of the Florida Keys.
"This has been a great experience," McCloud said. "The sign here says 'people helping people.' That's what the Teamsters have been all about. We're all out here letting Key West know that we have heard your concerns, we are here for you and we are trying to fill your needs."
Local 769 represents many of the largest employers in the Florida Keys, and reaching out to the members after Irma was the biggest priority for the disaster relief team.
Jean Zeman is a shop steward that works at the Key West Police Department. Zeman was volunteering to clean up the yards of her co-workers who had property damage from Hurricane Irma, and she stayed in Key West during the storm instead of evacuating so she could keep her co-workers updated about the status of their homes and what was going on in the Keys.
"The community has grown closer together, and I think we're tighter knit now than we were before," Zeman said. "Hopefully this will continue to go forward and we continue to have the same little town community that we've always had."
Jonathan Flatt is a UPS driver who lives in the Florida Keys. He experienced a great deal of property damage as a result of Hurricane Irma, and even though he needs to find time to replace the things that he lost, he's back at work because many residents of Monroe County are depending on UPS Teamsters to deliver their medicine.
"Most importantly, I hope everyone can keep calm and know that we will get their packages delivered," Flatt said. "Given the circumstances, though, most people are very thankful for us. It's new to everybody, but everyone down here knows that we're all in this together. We're doing our best and taking care of one another with everything we have."
Renshaw and a team of volunteers head out to a housing complex a few blocks from the park. They canvass the apartments, delivering hot meals, water and toiletries to the elderly residents. John Bellera has been a Key West resident for over 30 years and he was thrilled that the Teamsters were lending him a hand.
"I was a union member before I retired and they took care of me," Bellera said. "They paid for my kids to go to the doctor, they paid for us to go to the dentist and they paid for us when we got sick. It's the best thing that ever happened to this country."
The Island of Enchantment
The same day that Hurricane Irma dissipated, the largest tropical cyclone of the year and the 10th-most intense Atlantic hurricane in recorded history formed just east of the Lesser Antilles islands. Hurricane Maria proved to be the most devastating storm to hit the island of Puerto Rico in as long as anyone could remember, and the demand for assistance was overwhelming.
Over 400 Puerto Ricans were killed. The power grid was wiped out, leaving the entire island without electricity, and the cost to rebuild is expected to exceed $100 billion. There are still hundreds of thousands of people in Puerto Rico without access to electricity, food or drinking water today.
"I'm glad we were able to help, even if it was in a small way," said Roy Gillespie, Joint Council 13 Human Rights Coordinator. "There's going to be a lot more needed for the long term. They won't be able to get back on their feet until everyone has clean drinking water, electricity and all the stuff we take for granted. You go to stores, and the shelves are bare or there are still lines around the block."
Teamsters started recruiting volunteers to provide disaster relief assistance as soon as they could. On Wednesday, October 4, only two weeks after Hurricane Maria made landfall in Puerto Rico, over 80 Teamsters were dispatched to the island as part of a chartered flight with the AFL-CIO. The volunteers worked primarily in handling the logistics and distribution of supplies on the island, but they also assisted with clearing debris and repairing homes.
Local 813 Business Agent Mark A. Cruz has family in Puerto Rico. Their house had its roof completely torn off by Hurricane Maria, and his aunt's house was destroyed.
After the storm, phone service on the island was completely gone, and it took him 10 days to get in touch with his family to make sure they were OK.
"This is very personal, but I feel very fortunate to be part of the clean-up, to be part of the relief to the homeland where my mother and father were born," Cruz said. "What I'd like to see is an injection of hope, of optimism. Right now, things don't look so great, but if we band together the future can be beautiful for Puerto Rico."
Local 813 member Lance Gibbs is a sanitation worker for Mid-Bronx Haulage. He said he was motivated to volunteer after hearing stories from his friends, family and neighbors about Maria's devastation.
"I had the opportunity to do something good," Gibbs said. "It was a great adventure. We went down there and we handled whatever it was that they needed us to handle. This is a strong brotherhood and we came together when they need us. That's the bottom line."
Teamsters from Joint Council 16 made up a significant portion of the membership that volunteered for the Puerto Rico mission. New York and New Jersey Teamsters are well prepared for disaster relief, having lived through 9/11 and Hurricane Sandy.
"I was notified instantly from my business agent, and I said, 'I have to go,'" said Paul Delaney, a Local 863 tractor-trailer driver in Elizabeth, N.J. "I did disaster relief with the Red Cross on 9/11, and it was traumatic, but I helped out and I feel good about it. Coming to Puerto Rico is a good thing we're doing for mankind."
"We rally and we go from one crisis to the next," said George Miranda, International Vice President and President of Joint Council 16. "We are at our best in adversity. That's what the union is all about: banding together for the greater good."
One of the most inspiring stories that came out of the Puerto Rico mission was that of Local 631 member Marcos Cruz, who not only volunteered, but made sacrifices to pay for the trip.
"My employer, LV Paving, told me that my job would be waiting for me when I get back," Cruz said. "Still, I'm going to be off of work for some time, so I sold my Harley-Davidson. My son was OK with it, but my daughter? Not so happy. But I was born in Puerto Rico. My family is in Puerto Rico. My brother runs a small business in Puerto Rico."
Cruz worked 16-hour days to get Puerto Rico back on its feet, filling a multitude of roles.
"If they need me to shuttle electricians to the hospital at 11:30 at night, I'll jump in a van and bring whoever they need to the hospital," Cruz said. "If they need me to go to the airport, I do that. It's been nonstop. My days went so fast, it's like I blinked and it was already midnight. But every hour that went by, it got better."
Cruz says he will be making several trips back and forth to Puerto Rico over the course of the next year.
"My heart is broken for my island; it's going to take years for it to get back to where it needs to be," Cruz said. "Six months, a year from now, I want Puerto Rico to be what it has always been called: the island of enchantment."
Very Fake News
Declaring that disaster relief efforts can be a bit chaotic is like saying you'll do a lot of push-ups in boot camp: it's the understatement of the century. Relaying accurate information is difficult. Circumstances change at the drop of a hat. Overworked and under-resourced volunteers are tasked with providing food, water, basic necessities to thousands of desperate people all at the same time. So, when a false story about the Teamsters Disaster Relief mission in Puerto Rico started to gain traction in the stranger corners of the internet, it was not something that any of the volunteers on the ground had any interest in dealing with.
On September 30, a blog called Conservative Treehouse that regularly spreads fake news posted a story stating that relief shipments were not being distributed throughout the island because the Teamsters were on strike. In fact, the reason there were no available drivers, according to United States Air Force Colonel Michael Valle, was "they can't get to work, the infrastructure is destroyed, they can't get fuel themselves, and they can't call us for help because there's no communication."
Despite reality, the fake story took off like wildfire. It was picked up by other outlets, including Gateway Pundit, and it was even re-posted by prominent conspiracy theorist Alex Jones. Social media accounts were baselessly attacking the Teamsters for a strike that never happened. Eventually, the story was debunked by Snopes, PolitiFact, and Fox News' Shepard Smith.
General President James P. Hoffa publicly denounced the false stories at the time.
"These viral stories spreading across the internet are nothing but lies perpetrated by anti-union entities to further their destructive agenda," Hoffa said. "The fact that they are attempting to capitalize on the suffering of millions of citizens in Puerto Rico that are in dire need of our help by pushing these false stories, just exposes their true nature."
In less than three months, millions of Americans have lost everything they have because of the unforgiving torrential storms and wildfires. As people throughout the country try to piece their lives back together, the Teamsters will be there to help them every step of the way. After all, the Teamsters Union is at its best when circumstances are at their worst.
For more information or to donate, visit ibt.io/tdrfund.
California Fires
Teamsters Help Those Suffering from the Inferno
Wildfires in Northern California cost at least 100 Teamster families their homes, destroyed more than 8,400 structures, and killed 42 people started just after midnight on October 8. Within days, 22 separate fires were raging across Napa, Sonoma, Mendocino, Solano and other Northern California counties. The toll for Teamster families in the area was immense, and the fire moved so swiftly that most evacuated with just the clothes on their backs.
As the days progressed and fires kept burning, Local 665 President Mike Yates got a call from the manager of the local Les Schwab Tire Center.
"They were getting donations for the fire victims and had nowhere to put them. So we moved into action," Yates says. "At first, we borrowed two UPS trailers. That quickly turned into four and then into eight. Then, the Joint Council 7 truck came up, filled with more donations."
Union members and volunteers from community organizations came to the parking lot to sort the donations and move them into the trailers designated for water and food, bedding and towels, clothing and general household supplies.
"The local made radio announcements for more volunteers and the community really turned out,"
Yates says with pride.
After a few days of preparations, the distribution operation opened to the public on October 14—less than a week after the first fires started.
"At one point, we had 400 people on the property, including 60-70 volunteers and lots of displaced families who didn't know if they still had homes," Yates said. "The whole Joint Council has been awesome. There was just an outpouring of help. Everyone called to say 'what do you need?' and then they sent it."
"We also set up a fund through All Charities Teamsters to accept financial donations and members, employers, and the general public has been more than generous. We were immediately able to make $500 gift cards available to each Teamster family that lost homes so that they could purchase basic necessities," Yates said.
Yates says that this tragedy enabled the community to see the union in a different light. "We were able to talk about what the Teamsters do for our members and educate people about what it means to be in a union. But more than that, we just focused on how we could help each other and rebuild our community," Yates says. "We kept politics out of it and just did the work that needed to be done."
« Previous
Next »