Teamsters Call on Apple & Tesla to Stand by Workers During COVID-19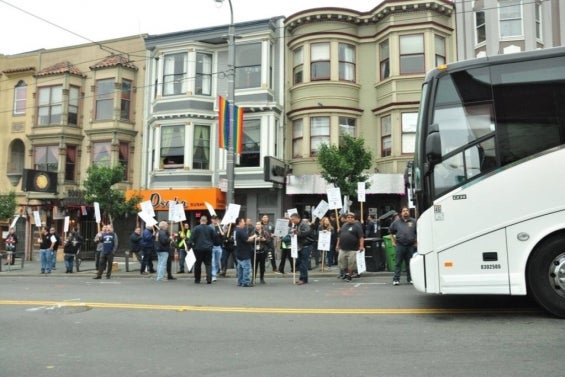 Press Contact: Kara Deniz Phone: (202) 624-6911 Email: kdeniz@teamster.org
(SAN FRANCISCO) – Teamsters Joint Council 7, which represents more than 1,000 shuttle bus drivers who work for the world's wealthiest tech companies, is calling on Apple and Tesla to ensure that its contracted drivers are protected during the COVID-19 pandemic.
Apple and Tesla are exceptions to the long list of tech companies which have continued to reimburse their transportation providers to ensure drivers will receive paychecks and health care during COVID-19. Companies like Facebook, Genentech, Electronic Arts, Linkedin/Twitter and Salesforce, among many others, have committed to ensuring shuttle drivers will be protected.
Shuttle bus drivers who work for the high-tech contractors work long hours, ensuring that tech company employees are transported safely. These drivers deserve to have their own health and safety protected.
"I am shocked that Apple and Tesla would be so cold hearted as to refuse to do even the minimum that the other companies are doing for the drivers," said Stacy Murphy, Teamsters Local 853 Business Representative. "It simply is unbelievable that two of the richest companies in the world won't do the right thing!"
"Both Apple and Tesla seem to pride themselves on being good corporate citizens, and both benefit greatly by the services these drivers provide. I am hoping that this is simply an oversight by both companies, and that they will step up and do the same as the other tech companies. This includes many employers who have taken the responsibility to make sure their Teamster employees are covered in these unprecedented and serious times," said Rome Aloise, Teamsters Joint Council 7 President and International Vice President.
Teamsters Joint Council 7 represents 150,000 members and retirees in Northern California, the Central Valley and Northern Nevada.
« Previous
Next »