Port Truck Drivers Take Action, Demand Protections From COVID-19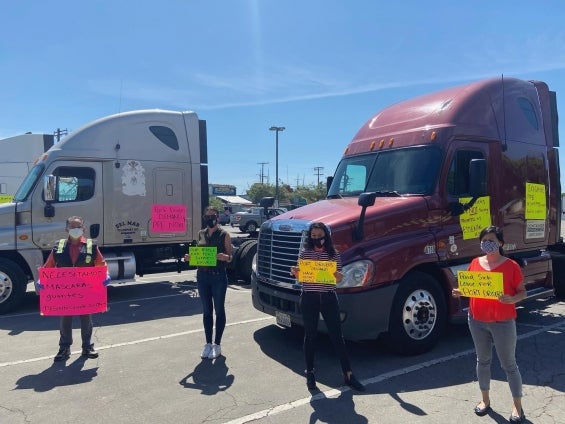 Truck drivers who work at the Ports of Los Angeles and Long Beach–and whose misclassification by trucking companies as independent contractors deflates their wages and denies them benefits like paid sick leave and health insurance–circled their trucks around the Port of Los Angeles administrative building today and delivered a petition demanding greater protections amid the COVID-19 crisis.
With the support of the International Brotherhood of Teamsters and accompanied by allies from the Our People Our Port coalition, the truck drivers circled the Port Administration Building at the Port of LA and drivers delivered their petition, which has been signed by 270 drivers. This took place at the same time as the Port of Los Angeles Harbor Commissioners' meeting. The drivers' demands include: proper PPE, paid sick leave, immediate cash assistance, free COVID-19 testing, social distancing procedures and a suspension of payment requirements related to truck loans and leases.
Port truck drivers play a critical role in moving essential goods, including groceries and medical supplies on behalf of the largest retailers and brands in the United States.
"Since the COVID-19 pandemic began, my work at the Port has slowed down and it's become nearly impossible to support my family," said Juan Giraldo, a misclassified port truck driver from Los Angeles. "We haven't been provided with the masks and gloves necessary to stay safe, and if I got sick I'd be in an even tougher situation since my company doesn't provide me with paid sick leave. Enough is enough. I'm proud to stand with my fellow truck drivers to call on the ports and the mayors to enforce the rules and make our trucking companies take action to protect our health and the heath of our families."
The vast majority of port drivers were already illegally misclassified as independent contractors prior to the pandemic, leaving them vulnerable to trucking companies that force drivers into debt and routinely deduct truck payments from their paychecks. Additionally, port truck drivers do not feel safe at work, as trucking companies and the ports fail to take necessary precautions, and drivers fear for their health as they are forced to choose between insurmountable medical bills or going to the doctor for a check-up. The International Brotherhood of Teamsters has long stood with misclassified drivers in their fight for fairness and for the wages and rights they deserve.
A recent survey of port truck drivers conducted in conjunction with Change to Win found seven in 10 reported lower pay and more dangerous working conditions during the pandemic.
« Previous
Next »