Local 483 Leads Fight Against Pro-Amazon Zoning Plan in Boise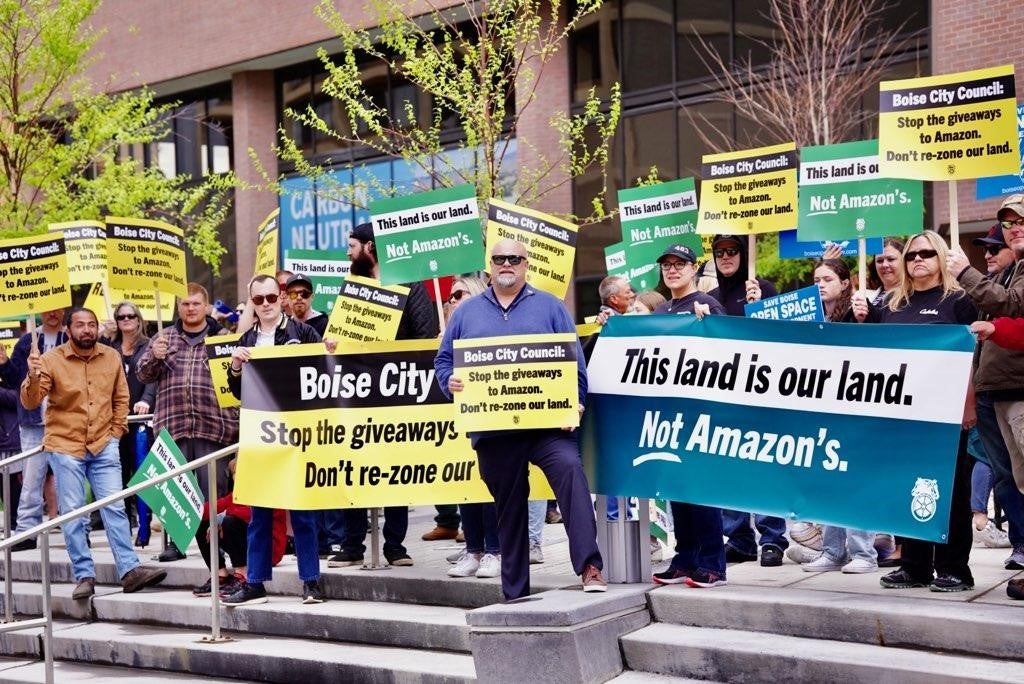 Teamsters Local 483 and community activists are opposing the Boise City Council's proposal to rezone current open-space land for e-commerce and logistics facilities, including potentially Amazon. A City Council vote on the plan is set for May 17.
The proposal of a 153-acre plot in South Boise, Idaho, comes after Amazon was already given 22 million in taxpayer dollars last November for an air cargo hub at the city's airport. Local 483 participated in a rally and march last weekend with the Boise Open Space Alliance, the Southwest Ada County Alliance and the South Cole Neighborhood Association to oppose the plan.
The city has not provided South Boise residents with any information on traffic, pollution, noise or other environmental or economic impacts if the zoning change is made. Such modifications would destroy the habitat of local and migratory birds, birds of prey and other plant and wildlife, eliminate significant open space near residential areas, and potentially snarl traffic in the area.
The mayor and City Council have continued to shroud the development in secrecy. The city removed information about the development from its Planning and Zoning Commission website and has continued to advance the rezoning effort without a site plan, irregular practices for a city council.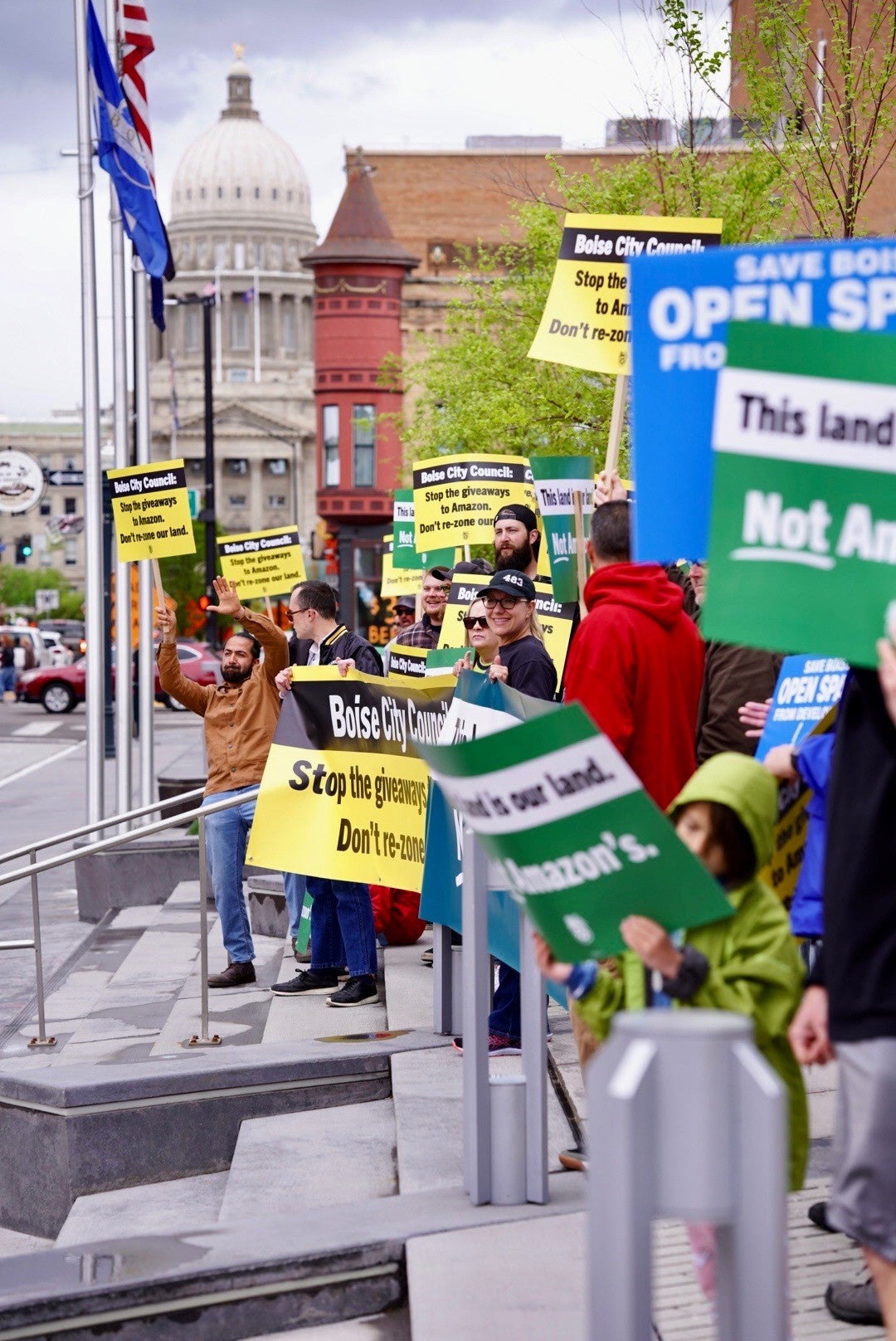 Local 483 President Darel Hardenbrook said he is concerned such a significant zoning change to create an industrial logistical hub–with Amazon as a potentially significant tenant–will degrade working conditions, drive down wages for other warehouse workers in the region, and negatively impact neighborhoods around Boise.
"The competitors to the world's richest company are paying far more," Hardenbrook said. "They are paying their fair share and contributing to society. E-commerce companies like Amazon come in and pillage what we consider Boise to be – one of the best cities in the nation. You are already seeing it. It is a race to the bottom for workers and neighborhoods, and the mayor needs to listen to us."
The evidence shows e-commerce employers that lack unions are not good for residents. Unionized full-time workers at the Boise airport are paid approximately $40 per hour, receive $13 per hour in a defined pension plan and have a fully funded health care plan. Part-time workers at the airport are paid an average of $23 per hour, receive $12 per hour in their pension, and pay nothing out of pocket for their health care plan. By contrast, Amazon pays $15-$17 per hour for similar jobs and spends hundreds of thousands of dollars on union busters to try and stop workers from organizing a union.
National data shows when a large Amazon facility opens in the U.S., the average compensation for similar jobs in that community declines more than six percent in the two years after opening. It's even worse for warehouse workers, who are paid 10 percent less in areas with Amazon facilities than workers in warehouse jobs elsewhere.
Teamsters in Boise and around the country will continue to stand against irresponsible development and oppose Amazon's degradation of local communities and industry standards.
« Previous
Next »