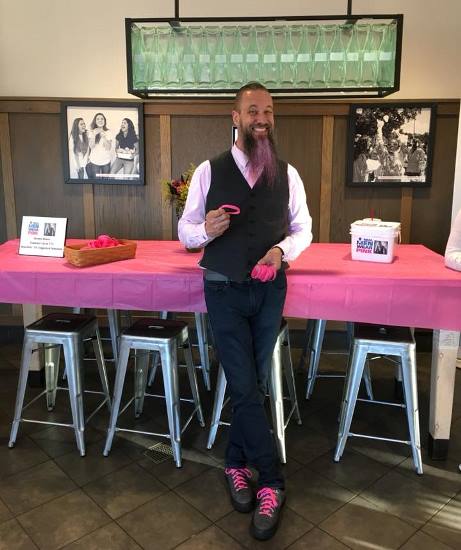 A common axiom for leadership is that one should lead from the front. When it comes to charity, Local 773 President Dennis Hower has taken this to heart in a big way.
"I've always encouraged my membership to get involved with their community and take up good causes in their free time," Hower said. "So when they came to me and asked me to get involved with Real Men Wear Pink, I had to go all in."
Local 773 represents clerical workers at the Bethlehem Area School District in Bethlehem, Pa. A few years ago, a group of secretaries at the school district formed a support group after they were diagnosed with breast cancer. Together the Local 773 members fought and beat the disease.
They helped with fundraising for the American Cancer Society (ACS) in the years following their recovery, and most recently they decided to nominate their local union president for the ACS' Real Men Wear Pink initiative, a campaign where individual men embark on a fundraising drive for ACS throughout the month of October.
Hower said that he was happy and honored to be nominated by his members, and that the fight against cancer has been especially close to his heart ever since he lost his father to cholangiocarcinoma.
Initially, Hower set a goal of $10,000, with the promise that if the goal was reached, he would dye his beard pink (Hower has been growing his beard for years). The donations poured in from Local 773's staff, membership and Teamsters throughout the country. Before long, Hower had a pink beard. Even after Hower hit his goal, he and his members have continued to raise money for ACS. For more information, including how to donate, visit ibt.io/LU773pinkpower
« Previous
Next »