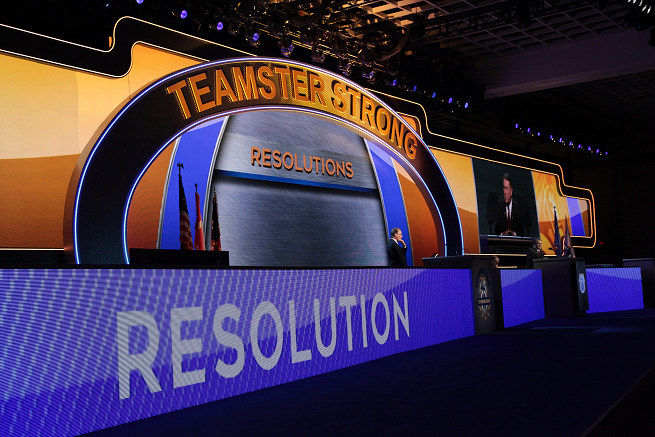 LAS VEGAS – Attendees at the International Brotherhood of Teamsters' 29th International Convention approved a slate of resolutions during the final day of proceedings Friday that clarify the union's policy stances on everything from airline organizing to worker misclassification.
More than 30 resolutions were passed en masse this morning, many focused in the organizing or political realm. But the one that probably gained the most interest of Convention-goers was the measure dealing with opiate painkiller addiction, first proposed by Local 24 President Travis Bornstein.
Bornstein on Wednesday addressed the Convention about the overdose of his son Tyler in 2014 and his family's creation of the non-profit Breaking Barriers to help combat addiction. Response of the union was overwhelming, and more than $1.4 million in donations were pledged to help the fledging group build a facility on the vacant Akron, Ohio lot were his son's body was found.
As part of the resolution, "the Teamsters call for greater education and outreach related to prescription drug addiction."
Among the other issues highlighted in resolutions were:
Finance Reform;
Get UPS Out of ALEC;
Let's Get America Working Campaign;
NYC Horse Carriage Campaign;
Teamster Organizing Model;
Transportation Safety;
UC Local 2010 Contract Campaign; and
XPO Logistics Organizing
The full slate of resolutions can be read at https://teamster.org/2016-ibt-convention-resolution.