Teamsters Resolve to Fight Soda Tax in Philadelphia, Nationwide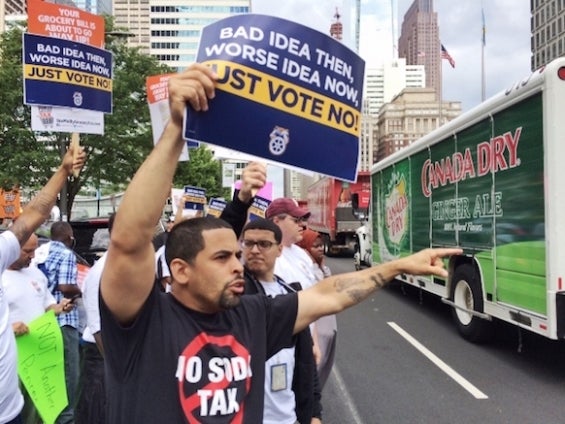 (LAS VEGAS) –– Teamsters from Philadelphia and nationwide resolved at the union's 29th International Convention to join together in opposition to soda taxes that hurt good jobs in the beverage industry.
Daniel Grace, Secretary-Treasurer of Teamsters Local 830 in Philadelphia, put forth the motion at the convention to pass a resolution opposing unfair beverage taxes that put people out of work.
"These taxes are harmful to workers, small grocers and the city's poor. The tax that the city council passed in Philadelphia will go to fund the city's pet projects at the expense of our workers and economy," Grace said. "We are continuing the fight against this unfair, regressive tax in court. Our fight is not over."
After years of efforts by its city council, Philadelphia recently became the first major city with a soda tax of 1.5 cents-per-ounce on sugary and diet beverages.
"They spent years trying to push through this tax that targets one industry over another, and it's the workers that will suffer as a result," Grace said. "Our city council's job isn't to raise revenue on the backs of workers; it's a disgrace."
Thousands of Teamster delegates from across North America have gathered in Las Vegas this week for the union's quinquennial convention. Delegates passed a soda tax resolution that states, in part, "…delegates here assembled commit to protect the jobs of our working families by demanding that any soda tax proposal include measures to address the potential adverse impact upon our members, and that if the proponents refuse to address the unfair impact upon our members, we are duty bound to oppose and defeat the proposal."
Founded in 1903, the International Brotherhood of Teamsters represents 1.4 million hardworking men and women in the United States and Canada. Visit www.teamster.org for more information.
« Previous
Next »