UPS Teamsters Call to Action Digital Toolkit

The International has assembled the following toolkit of materials for local unions to use at rallies, parking lot meetings, and leafletting actions at UPS locations beginning August 1, 2022. Locals will also receive palm cards promoting the new UPS Teamsters app, along with UPS Teamster pens and rubber bracelets to distribute to members.
Rally Signs
UPS Teamsters App Palm Card
Issue Flier
Member Talking Points and Social Posts
Social Media Graphics
Instructions for Sharing Action Photos & Videos
Contract Timeline
---
Rally Signs
Click here for print-ready files.
These files can be sent to any local printer. If you need help finding a local printer, click here to use the Graphic Communications Conference "Find a Union Printer" tool.
The following guidelines for printing should be shared with the printer you use:
• Sign size: 24" x 18" and 18″ x 12″
• Each sign – six in total – is double-sided
• The signs are full color, full bleed
Your local can decide to print all available signs or only select the ones you think will make the biggest impact with your UPS members. Let the printer know the quantity you need printed for each sign.
---
App Palm Card
Click here to download palm card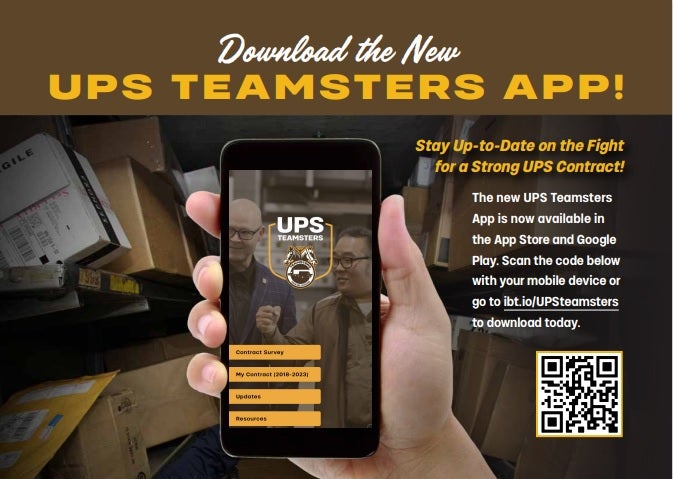 GET THE APP. GET READY. GET ACTIVE.
The app is your one-stop shop for everything related to UPS Teamsters and the fight for a strong contract in 2023, including:
Bargaining Poll
Mark your top issues that you want your union to address in the 2023 contract.
National Agreement – all Supplements and Riders
Pull up and search the National Master Agreement as well as all supplements, riders, and addendums that apply to your local and job classification.
Grievance Notes Form
Build your case in real-time with this tool that allows you to record the facts of any violation by the company, immediately send the info to your steward and pull up previous entries in the app.
Package & Feeder Driver Logs
Keeping an accurate record is one of your best defenses when management tries to take any action against you.
Strike Savings Calculator
This in-app tool helps you budget your savings so you are prepared in the event that we have to strike UPS for the contract we deserve.
Steward's Guide
Helpful insights for stewards and all UPS workers to enforce the contract and protect your rights.
Contract Timeline
What's next? Learn about the various stages of the campaign and what's ahead as we fight for a strong contract.
Updates & News on Negotiations
Get regular updates from the campaign on the app and through app notifications to your phone.
Get Involved
Learn how you can plug in to the campaign, attend future actions and download printable campaign materials from the app.
As we prepare to take on UPS, we need all UPS Teamsters informed, engaged and ready to take action. With regular updates throughout the campaign, this app will be your home for this historic fight.
---
Issue Flier
---
Member Talking Points and Social Posts
Download in Word | Download PDF
UPS Teamsters are united in our fight for a strong contract in 2023.
Fighting for a strong Teamster contract at UPS is a battle for job security, more full-time jobs, and a better life for workers across America.
UPS Teamsters have been working PEAK hours for more than two years straight. And UPS profits increased $11.2 billion!
Before the last Teamster contract was negotiated in 2018, UPS made $4.9 billion. Last year, UPS profits were more than $12.8 billion.
UPS overworks its current employees so it doesn't have to pay benefits and pensions to more workers. To meet quotas, employees are forced to work up to 12-hour days through COVID and extreme heat.
The Teamsters are here to show UPS we're in this together — full-time package drivers, inside part-time workers, feeder drivers, mechanics, air drivers.
UPS Teamsters are subjected to constant harassment by management. Managers constantly try to divide us based on discriminatory wage schemes. We are not going to allow UPS to use bad managers and predatory cameras and sensors to dehumanize us and strip away the dignity of our jobs.
Teamsters are the hardest working people in the country, and we are standing up to end two-tier wages for package drivers, excessive overtime, subcontracting, and poverty wages for part-time workers.
This contract fight is about hard work being rewarded with a better life for all UPS Teamsters and our families.
With the nation's largest union contract at stake, UPS Teamsters are mobilized. We have the power of a new militant Teamsters Union behind us. Together, we will end the concessions, win a stronger contract, and protect good jobs in America.
---
Social Media Graphics
Sample Social Media Text for Facebook, Instagram, etc.
Today, our local – together with UPS Teamsters all across the country – is kicking off the campaign for a strong contract in 2023. UPS's profits have increased by more than $11 billion in the last two years thanks to hardworking rank-and-file Teamsters. Our members worked through COVID and have endured non-stop peak workloads. The time is now to take what it ours – to collect our fair share of the success that our members made possible. We are mobilizing and building the movement to win the contract that our members deserve. And we are sending a message to the company that UPS workers are united as one, including full-time package drivers, inside part-time workers, feeder drivers, mechanics, and air drivers. Together we will take on this fight, stand up for good jobs, end the concessions, and win a strong contract for UPS Teamsters in 2023.
Click below to download graphics
---
Share Photos & Videos from Your UPS Actions
Click to download the following in:
Show UPS that the Teamsters are building a powerful, coordinated movement to win a strong contract in 2023. Follow the instructions below for submitting photos and videos from your local union's actions. The Teamsters will feature content from actions happening in every region of the country across the International's social media platforms.
To submit image or video files from your phone:
Open the UPS Teamsters app and click on "Share Action Photos/Videos." Upload your files and indicate your local union. OR…
Email your files to UPSvictory@teamster.org. Remember to include your local union, as well as the UPS center/location where the action took place.
QUICK TIPS
If you are sending video files, please keep them short — no longer than one minute and no larger than 50 MB.
For photos, move in close to the action; avoid taking photos from a faraway distance.
When possible, rotate your phone sideways/horizon to avoid vertical image and video files.
---
Contract Timeline
Download timeline one-pager here.