California School Bus Workers Overwhelmingly Choose Teamsters
(WASHINGTON) – School bus drivers and aides with Durham School Services in Santa Ana, Irvine and Laguna Beach, Calif., have voted overwhelmingly, 221-54, in favor of representation by Teamsters Local 952 in Orange. The workers are seeking affordable and decent health insurance, fair pay and fairness on the job. There are 308 workers in the bargaining unit.
"We are so excited," said Stacy Daly, a driver at the Santa Ana yard. "Now that we are Teamsters, I know we are going to see a change for the better."
"We need to negotiate to improve our standard of living. I benefited from being a Teamster for many years and support us joining the Teamsters here now," said Dee Rainwaters, an aide in Irvine.
"We all want to be treated fairly and be able to provide for our families. I am looking forward to what we'll achieve as Teamsters," said Lee Pflug, a driver from Laguna Beach.
The workers stood united in the face of company resistance to their organizing efforts, including an attempt by Durham management to keep the election for the three bus yards separate. The workers won the case, which was brought by the company to a hearing before the local National Labor Relations Board office, as well an appeal to the NLRB in Washington, D.C. The workers voted together in their election as one united group.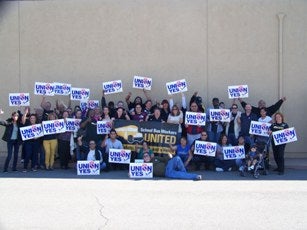 "We look forward to negotiating a strong first contract, including work preservation guarantees and improved health care coverage for the workers and their families," said Patrick D. Kelly, Secretary-Treasurer of Local 952.
"This was a great joint effort of our union and a big win for school bus workers in California," said Randy Cammack, President of Teamsters Joint Council 42.
The victory is the latest in an effort to organize private school bus and transit workers across the country. Drive Up Standards is a national campaign to improve safety, service and work standards in the private school bus and transit industry. Since the campaign began in 2006, more than 30,800 drivers, monitors, aides, attendants and mechanics have become Teamsters.
For more information on the Drive Up Standards campaign, go to: www.schoolbusworkersunited.org
Founded in 1903, the Teamsters Union represents more than 1.4 million hardworking men and women in the United States, Canada and Puerto Rico.
« Previous
Next »