I Love Coming to the Women's Conference!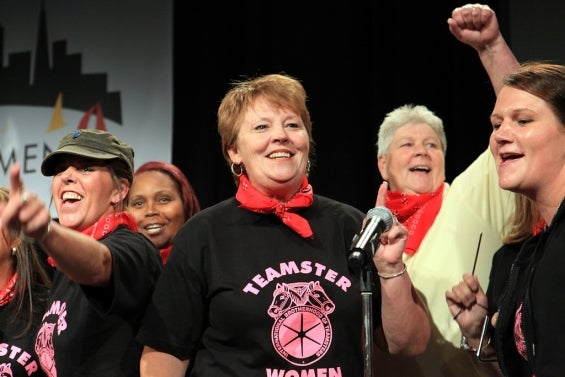 Note: This is a first-person account of Kelly Rivera-Craine, a member of Teamsters Local 332 in Flint, Mich. She is attending the Teamsters Women's Conference in San Francisco.
I love coming to the Women's Conference! It gets me pumped up and motivated. We went through negotiations this year at Genesys Health System, where I work as a registered nurse. This conference gets me recharged and ready to go back to my local and my job. We are excited to have 20 women here from Local 332.
At the conference today we heard from President Hoffa. He was inspirational. He's an awesome speaker. President Hoffa and Gavin Newsom, the lieutenant governor of California, both talked about getting people out to vote. It's our right and it's one of the reasons I became a shop steward, because I don't want to sit back. I decided to try and make a change. When I see people not voting, it's like why are you complaining? Everyone needs to get out and vote.
We also heard from Joanne Hayes-White, the chief of the San Francisco Fire Department. She made a comment about grabbing on to opportunities and about never knowing what you can do until you try. Fire fighters are predominantly male, so to see what she has done while raising a family shows that if you really work hard, you can do it.
My mother was my inspiration. She also raised a family, while going back to school. She was an inspiration for me to get my college degree. My father is very important to me. He was a union member and I love that we can "talk union" now that I'm a Teamster and a shop steward.
The Women's Conference is a great experience and I encourage Teamsters to come to this conference. It leaves all of us feeling like we can take on anything!
« Previous
Next »