38th TNBC Conference Kicks Off in Atlanta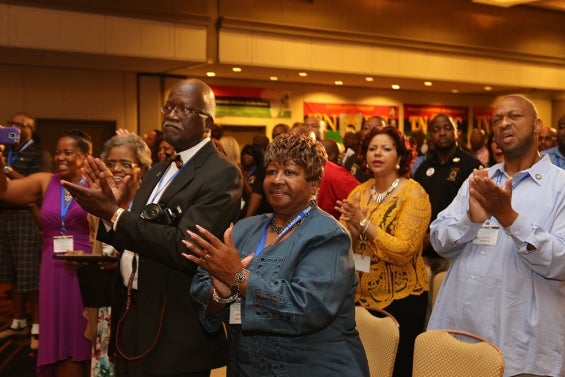 Hundreds of African-American Teamster leaders and members have gathered together in the heart of downtown Atlanta on Peachtree Street at the 38th Annual Educational Conference and Banquet of the Teamsters National Black Caucus (TNBC). This year's conference celebrates the Freedom Riders and the 50th anniversary of the March on Washington. See more photos from this event.
The organization and theatrics of the event has wowed the newcomers. At the beginning of the conference, the lights dim, then red and green lights slowly illuminate as the room gets completely quiet. The voice of Dr. Martin Luther King Jr. is heard, saying "We shall overcome."
Fifty years ago, Dr. Martin Luther King Jr. delivered his "I Have A Dream" speech in Washington, D.C. This week, Teamsters from across America will pay tribute to that speech and those who stood up for civil rights for all Americans. This year's theme lauds the accomplishments of the Freedom Riders.
A video shown at the conference highlighted the struggles endured by African-Americans in America from the 1930s to the election of President Barack Obama in 2012. Work still needs to be done, but the Freedom Riders are still riding. Participants were inspired to see how much effort has been put into making life better for future generations. Teamsters from all walks of life have joined together to continue to march on for better living conditions, better wages, better education, and better life for all, especially African-Americans. For they will not stand for Dr. Martin Luther King Jr.'s dream to die.
Attendants were privileged to witness a flag ceremony from the Booker T. Washington High School JROTC color guard. Atlanta's city council president, Caesar Mitchell, visited the TNBC kickoff. He was awed to hear the Puerto Rican anthem in Spanish and said how it should remind us of how diverse America has become.
One question asked at the conference was, "Would Martin Luther King Jr. be happy with the progress we've made?" After all, 35 percent of African-Americans are living in poverty today; their unemployment rate is twice that of non-blacks.
"We have work to do. Labor unions are the only group in the world fighting for the working people and the middle class; we're the only ones left. Let's do our work," said TNBC Chairman Al Mixon at a special presentation in recognition of his hard work on behalf of the caucus.
On July 7, 1971, in Miami, the TNBC held its first meeting. The goal was to bring about a change to the union. In September 1975, John H. Cleveland, President of Local 730 in Washington, D.C., became the first appointed chairperson of this newly formed organization. They are still fighting in 2013, with great Teamster pride. The numbers of attendees are growing every year as word spreads of this empowering event.
« Previous
Next »