Teamster Women Get Fired Up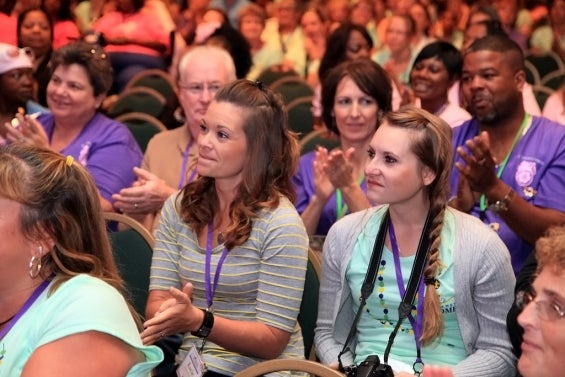 Teamsters General Secretary-Treasurer Ken Hall addressed the Women's Conference on Friday, the second day of the annual event, in New Orleans. View more photos from the event, here.
"The reason you are here is you believe in your ability to stand with your sisters and brothers to bring equality to workers," Hall said.
Hall noted that nationally women still only make about 80 cents to the dollar that men make, and 69 cents to the dollar in Louisiana. He also noted that women are underrepresented in both state and federal-level elected office, and given those circumstances, it is unlikely that workers can rely only on government to make sure everyone is treated equally.
"That's where unions come in, and that's where the Teamsters Union comes in," Hall said. "Teamster contracts provide wage rates and benefits that are the same, regardless of your gender or race, and that's why unions are so important in the fight for equality."
Leading that fight are the Teamster women who spoke to the 1,000 conference attendees today as part of a "Women's Activist" panel. They shared their emotional and spirited stories of determination and resilience in the face of anti-union employers. They came to New Orleans from all over North America, and altogether they are working on campaigns that affect more than 20,000 Teamsters, either current Teamsters or those about to become Teamsters.
They work and organize at IKEA in Canada, in the U.S. at the ports, as well as at taxi cab companies, school bus companies and the University of California system. They are diverse, but they would agree they all have one thing in common—they are tenacious Teamsters.
Fired Up
"My fire to organize has been fueled by speaking with workers who have had their wages stolen, shown no respect, disciplined without just cause or terminated for trying to organize in this great union," said Shelley Goodman, a 21-year Teamster school bus driver and organizer. "We stood strong, united and didn't let this multinational company [Durham School Services] get us down."
"I have been blessed to work in a department where I have supportive supervisors; however, when I went to union meetings I heard about brothers and sisters who weren't being treated well and that fire was lit in me. I feel I need to be a part of a voice for those who don't have one, and that's why I became an activist," said Callie Wilson, a University of California research assistant working on brain cancer research and a member of Local 2010. "It is up to us to speak up for and encourage each other."
Dot Tompkins, a Teamster shop steward from Canada, has been locked out with her coworkers at IKEA for the past four months.
"This is a fight on workers, and we are grateful for the huge amount of support we have received. We are stronger now than the day we went out," Tompkins said.
Nearly 1,000 Harrah's Casino workers in New Orleans are currently organizing with Teamsters Local 270, also in New Orleans, and UNITE HERE. The Teamster women attending the conference heard from some of these workers and offered their support with their campaign.
The 2013 Teamsters Women's Conference continues Friday afternoon and Saturday morning with dozens of educational workshops on topics such as "Shop Steward Skills and Strategies," "How to Build a Movement with Social Networking," "Women and Investing," "The War on Workers and Right-to-Work (for Less)" and much more.
Follow up-to-the-minute coverage of the conference on www.teamster.org, "Teamsters" on Facebook and @Teamsters on Twitter.
« Previous
Next »