Teamsters & Fired Taylor Farms Workers Hold ULP Strike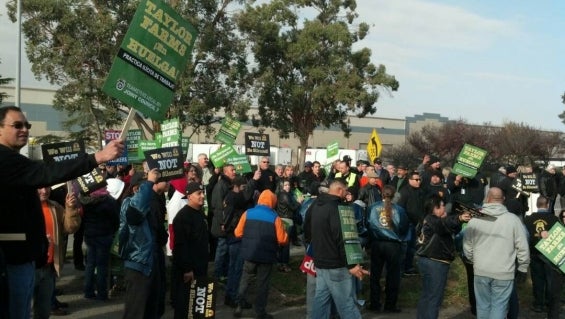 (TRACY, CA) – Today, Teamster members and fired Taylor Farms workers launched a one-day Unfair Labor Practice strike in protest against gross workers' rights violations being committed by Taylor Farms at its facilities in Tracy, Calif. Community allies, faith leaders and supporters joined Teamsters and workers on picket lines and for a morning rally which was attended by California Assemblymember Roger Hernandez and Stockton, Calif., Mayor Anthony Silva.
Taylor Farms workers are calling on the company to stop its vicious campaign of retaliation and threats against immigrant workers who are organizing for respect, living wages and humane working conditions. They are also demanding that the company reinstate three workers who were fired for engaging in legally-protected union activity.
"This community and the state of California will not accept the abusive, illegal practices that Taylor Farms is alleged to have committing against its workers," said Hernandez. "Companies like Taylor Farms cannot get away with attacking immigrant workers who stand up for their most basic rights as workers and as human beings."
Picket lines in front of Taylor Farms' facilities held up trucks and also extended to Teamster-represented companies that are customers of Taylor Farms. Pickets targeted companies such as Raley's, C & S Wholesale Grocers and others where Taylor Farms trucks make deliveries, informing other Teamster members and the public about unfair labor practices against workers at Taylor Farms.
Teamsters Local 601 has filed charges for hundreds of Unfair Labor Practice violations on behalf of the workers, including the three workers who were unjustly fired.
"I was fired after four years of working at Taylor Farms," said Julian Camacho. "We have the right to stand together and organize for better working conditions, but Taylor Farms clearly does not respect that and it doesn't respect its workers – they just want to silence us."
"Taylor Farms treats its workers in Tracy like dirt," said Eddie Rodriguez, who was also fired for union activity. "I wanted a better life for me and my coworkers and for that I was fired."
Taylor Farms workers cite numerous concerns at their workplace including poverty wages and safety issues. The company fails to provide accommodations to pregnant workers, including one woman who was forced to resign and lost six months of wages while scraping by on food stamps. Workers report that the company routinely fires injured workers, denies workers meal breaks and pressures them to not use the restroom during their shifts.
One worker at the morning rally said he has been working at Taylor Farms in Tracy since he was 9 years old. He is now 19 years old and the company will not give him time off to go to school. Another worker is forced to live out of his car so he can pay out-of-pocket for his daughter's health care, according to the union.
"Instead of addressing these workers' concerns and respecting their rights on the job, Taylor Farms is punishing immigrant workers for exercising their rights," said Art Pulaski, Executive Secretary-Treasurer of the California Labor Federation, who also attended this morning's rally. "The company uses immigration status and the threat of termination to scare workers into silence."
Assemblymember Hernandez said the community is putting Taylor Farms on notice that its actions may violate new immigrant anti-retaliations laws – AB 263, AB 524 and SB 666 – which take effect in California on Jan. 1, 2014. The laws, which Hernandez helped pass, could result in criminal penalties for Taylor Farms for its recent and ongoing attacks on immigrant workers.
"We're here to stand with Taylor Farms workers and to let the company know we will not be silent until they start treating their workers with the respect and dignity that all workers deserve," said Ashley Alvarado, Secretary-Treasurer of Teamsters Local 601.
Taylor Farms is the largest supplier of fresh-cut produce in the food service industry. Teamsters Local 601 represents thousands of workers in the food processing industry. Taylor Farms workers in Salinas, Calif., are represented by Teamsters Local 890.
« Previous
Next »