Workers Shouldn't Be Stopped from Voting — Ever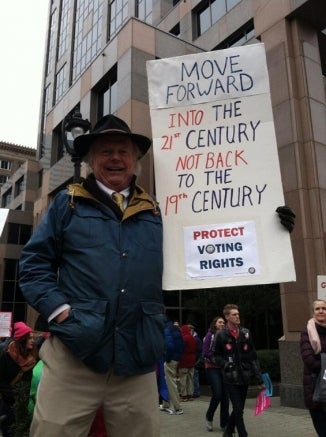 Several states, buoyed by victories in North Carolina and elsewhere, are again taking aim at implementing voter suppression efforts that could make it harder for workers, the elderly and others to participate in democracy and make sure their voices are heard at the ballot box.
GOP lawmakers in Georgia are behind legislation that would tighten the early voting window for municipal elections in the state. Currently jurisdictions must offer at least 16 early voting days. The measure would cut that to six. Advocates say the move would cut voter participation in city elections.
In Missouri, a new bill could keep as many as 220,000 registered voters from participating if changes on what kind of identification is deemed acceptable is instituted, according to a new report. The new rules would make the state's restrictions among the strictest in the nation. It would also require changing the state's constitution to be implemented.
"HB 1073 would change the requirements to vote by eliminating currently allowable types of identification voters can use to prove their identity at the polls," the document, prepared by Secretary of State Jason Kander, states. "There has not been a single case of voter impersonation fraud reported to the Secretary of State's office."
Republicans in Ohio, meanwhile, are continuing with efforts to reduce the amount of early voting days available in the state. This comes even though a similar effort blew up in their face during the 2012 election.
There are signs, however, that the public is not taking voter suppression efforts lying down. In Oklahoma, the state Supreme Court reinstated a lawsuit that challenges the state's voter suppression law, which was approved in 2010.
But perhaps the greatest pushback has come in North Carolina, where some 100,000 advocates took to the streets of the state capital earlier this month calling on the Legislature to rein in changes it made last year to voting rights and other important issues. The protest was believed to be the largest in the South since the march for voting rights in Alabama in 1965.
Not everyone will be personally affected by voter suppression. However, the impact such efforts have on the vote in towns, cities, counties, states and at the federal level could be substantial. Lawmakers should not be impeding their fellow citizens from participating in democracy. And the public cannot sit idly by while it happens and interests of the many are subverted by the powerful.
When government tries to put a check on the people, the people need to be heard. No one should be taking our rights away.
« Previous
Next »