Teamsters: House USTR Hearing Raises Warnings of 'Back To The Future' With Trade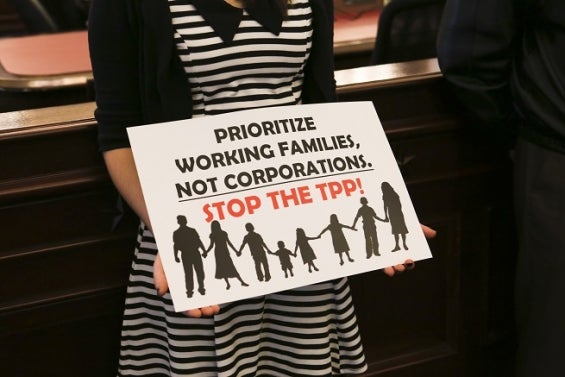 U.S. Trade Representative Michael Froman took a conciliatory tone toward Congress and workers while testifying today before the House Ways and Means Committee about the nation's trade policy and proposed deals like the Trans-Pacific Partnership (TPP). He said the administration values the input of lawmakers and wants to create deals that get people back to work.
Unfortunately for working Americans, there is reason to doubt Froman's outlook on how TPP and other trade agreements will affect their ability to support their families in the future. While he touted how a $1 billion increase in exports would create more than 5,000 U.S. jobs, Froman ignored the continued growth in the U.S. trade deficit that has robbed the country of hundreds of thousands of jobs and offered no real solution for the currency manipulation problem that allows our trade partners to undercut American products for sale.
"Done right, trade policy creates opportunities for American workers, farmers and ranchers; manufacturers and service providers; innovators, creators, investors and businesses – large and small," he told committee members. "Done right, trade policy promotes not only our interests, but also our values."
That sounds fine, but that must mean we've been doing it wrong up until now. After all, the U.S. lost 1 million jobs due to NAFTA and more than 46,000 due to the two-year-old U.S. Korea Free Trade Agreement (KORUS). Surely, the U.S. wouldn't want to follow the same path this time. The only problem is KORUS is the trade agreement model for TPP.
A bipartisan collection of lawmakers raised concerns about TPP during the hearing. Committee Chairman Dave Camp (R-Mich.), for instance, said he is wary of Japan's unwillingness to open up its agriculture and automobile markets as well as the lack of a resolution when it comes to currency manipulation.
Rep. Pat Tiberi (R-Ohio), meanwhile, called Japan's lack of willingness to liberalize its agriculture sector "unacceptable," telling Froman, "Don't you agree if we exclude a number of things in this agreement that it will just set us up for more down the road?"
Others took a more deliberate tact, telling the USTR that neither fast-track trade authority nor the TPP should move without more consultation from Congress. Rep. Bill Pascrell (D-N.J.) said despite claims that the trade process has been open to lawmakers, that couldn't be further from the truth. And the people know it.
"The American public is fed up with trade policy," he said, adding there's been "a lot of smoke and mirrors" used to dress up previous trade deals in the past two decades. "We need the intense involvement of the Congress, not after but before," Pascrell said. "What we are seeing in this Trans-Pacific Partnership is a slipping back to previous trade deals."
American workers can't afford to see that happen. While big business has seen its bottom line boom due to these bum trade agreements, regular people have seen a decline in their quality of life. Lawmakers on both sides of the aisle warned today there are many red flags when it comes to both the TPP and fast track. Hopefully USTR Froman was listening.
« Previous
Next »