Uncategorized
Voices Against Fast Track are Growing Louder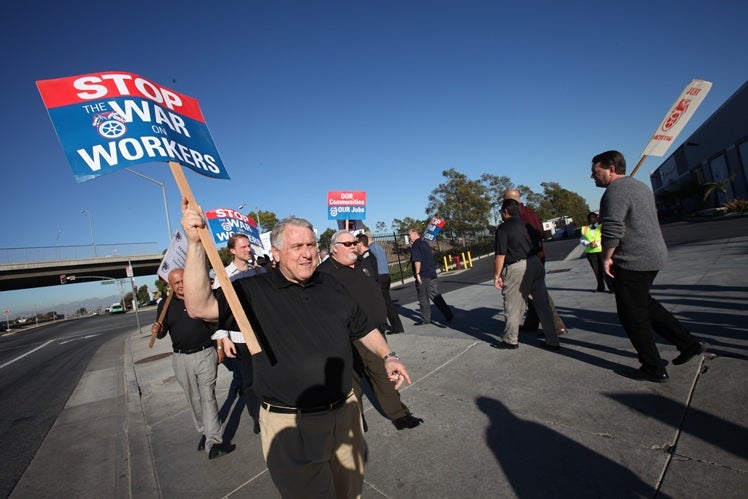 Thousands of Teamsters have contacted their congressional members in recent weeks to let them know "fast track" trade promotion authority is the wrong track for America. And the message is getting through. Lawmakers are increasingly realizing that giving the administration free rein to push through trade deals like the Trans-Pacific Partnership (TPP) without input from Congress is bad for workers.
Those coming out against fast track on Capitol Hill are beginning to read like a who's who in Washington. House Democratic Leader Nancy Pelosi (Calif.) became the latest leader to do so. The increased opposition even led Vice President Joe Biden to acknowledge that a vote on the measure was not likely to happen until after the November election.
But the major pushback on fast track has been fueled by lesser known but influential lawmakers. Rep. Sander Levin (D-Mich.), the top Democrat on the House Ways and Means Committee, was duly noted by other lawmakers who are taking a close look at the issue. Levin's stance against HR 3830 and S 1900 helped solidify the growing movement against a bill that would have Congress give up its constitutional authority to oversee trade deals.
New Senate Finance Committee Chairman Ron Wyden (D-Ore.) announced he has no intention of rushing forward with fast-track legislation authored by former Chairman Max Baucus and GOP committee leaders in the House and Senate.
He too realizes that the old-style fast track model doesn't work in today's economy.
Senate Majority Leader Harry Reid (D-Nev.) has also made it clear he has no desire to proceed with fast-track legislation. Add that to the bipartisan collection of upwards of 200 members of Congress who previously came out against fast track and that's a strong base of opposition. But the fight is far from finished.
The Teamsters are confident congressional opponents will continue to argue for a complete replacement to the Nixon-era fast track that will reflect the trade values of America and protect workers who are struggling to make ends meet. We are joined in solidarity with them in standing up for middle-class families across the U.S.
Now it's time for the administration to get the message.
The writing is on the wall. Congressional leaders and the American people are putting their foot down. It would be wise to listen.
« Previous
Next »