Teamsters: Uber, Private Sedan Services Need To Follow Same Rules As Everyone Else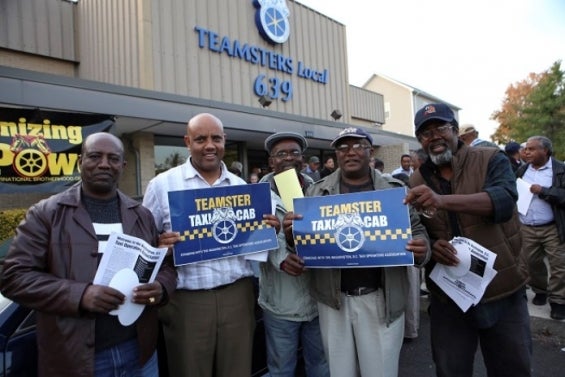 Tens of thousands of taxi drivers across Europe stood up to Uber this week by engaging in protests that snarled traffic in many of the continent's biggest cities. Licensed taxi drivers there have the same concerns that the drivers affiliated with the Teamsters in the U.S. have – Uber drivers don't need to follow the same rules and have an unfair advantage compared to drivers who have been working for decades in the industry.
Ferline Buie knows these issues firsthand. She is a Teamsters International Vice President as well as president of Local 922, which is affiliated with the Washington, D.C. Taxi Operators Association. She said taxi drivers' concerns with Uber, Lyft and Sidecar are a matter of fairness and that all private sedan services should operate on an equal playing field.
"In Washington, D.C., drivers are asking the same questions and making similar demands," she said. "The drivers' fight in Europe is our fight. Their demands for government action are our demands here in Washington, D.C. We are watching these protests carefully and they inspire our drivers to keep up the fight for fairness!"
Those in the taxi industry aren't the only ones who are raising questions about Uber, Lyft and others. Just last week, Virginia officials ordered Uber and Lyft to stop operating until fair regulations are put in place. It is an action that regulators in the nation's capital and elsewhere should also be taking.
Demonstrations against these services in the U.S. and Europe are not just fueled by taxi drivers trying to protect their way of life versus new competition. It is also an opportunity to educate the public about process and the challenges licensed taxis face when a non-regulated driver enters the fray. People don't realize the rules that need to be followed and the costs that are often shelled out by drivers.
For example, in Washington, D.C., drivers had to cover the costs of placing new dome lights on top of their cabs and installing credit card machines as well. They were forced to use certain businesses for these services and couldn't use off-the-shelf technology that Uber drivers might use to collect fares. They are also being forced to paint their cabs a certain color scheme in the near future and will have to pay that out of their pockets as well. As the rules stand currently, private sedan operators don't have to do the same.
Meanwhile, those in Europe have their own legitimate gripes. Some drivers there pay upwards of $270,000 to obtain a taxi license, a fee those who drive for Uber don't have to pay. How is that fair to established cab drivers?
Government officials need to understand that the use of new technology shouldn't circumvent rules on the books. Drivers who have followed the law should not be sacrificed. The same standards should apply to everyone – even Uber.
« Previous
Next »