Teamsters Want Senator To Implement New Vehicle For Fair Trade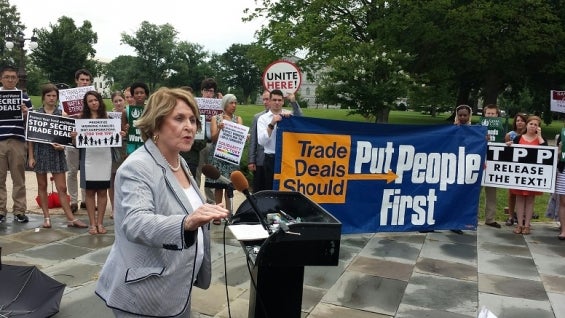 Sen. Ron Wyden (D-Ore.) has been mulling a reworking of fast-track trade promotion authority he's calling "smart track." And advocates of fair trade want to make sure it lives up to its name.
That's why nearly 600 organizations – including the International Brotherhood of Teamsters, the Brotherhood of Locomotive Engineers and Trainmen, 15 Teamster joint councils and some 50 Teamster locals – sent a letter to Sen. Wyden today calling on the Senate Finance Committee chairman to implement a significantly revamped vehicle for handling trade proposals, one that would provide more congressional and public accountability.
"In order to deal with today's complex trade agreements and accelerating globalization, a 21st century trade authority that included enhanced mechanisms for Congress to exercise its constitutional authority over U.S. trade policy is needed," the letter reads in part. "While it is important that Congress develop negotiating mandates that outline what all U.S. trade agreements must and must not include … even more important is the replacement of the outdated and failed Fast Track procedures."
The letter outlined the crafting of an new process that would require 1) a congressional role in selecting appropriate trade partners; 2) mandatory negotiating objectives to ensure trade agreements deliver broad benefits; 3) enhanced transparency to ensure meaningful congressional and trade input; 4) congressional certification that trade goals have been met before trade negotiations are concluded; 5) congressional approval of trade agreements and authorization for the executive branch to sign and enter into agreements; 6) a mechanism for a sizeable minority of the House or Senate to obtain a vote on a resolution to remove an agreement from expedited consideration; and 7) that trade negotiating authority must be considered in conjunction with related trade and economy policy legislation.
As it stands, fast track is no way to handle complicated trade deals like the Trans-Pacific Partnership (TPP) or the Transatlantic Trade and Investment Partnership (TTIP). These proposals extend far beyond traditional trade agreements and jeopardize hundreds of thousands of American jobs, not to mention consumer safety through unsafe food and products. Congress realizes it too. That's why more than 200 lawmakers, both Democrats and Republicans, have come out against it.
The U.S. has more than two decades of experience with fast track and the results for hardworking Americans have been devastating. The enactment of NAFTA resulted in the loss of one million jobs in this country, and since then millions more have been lost through the permanent normalization of trade with China, and the passage of trade deals with Central America (CAFTA) and Korea (KORUS). That's why the Teamsters and their allies are taking such a strong stand against enacting fast track again.
The middle class can't tolerate any more half measures to reform the old fast-track model. Congress needs to seize the opportunity to replace this trade authority vehicle and, as the letter states, "create a new trade negotiating and approval process that would help deliver trade agreements that could benefit workers, communities, and the environment and, therefore, rebuild broad support for trade agreements."
Amen.
« Previous
Next »