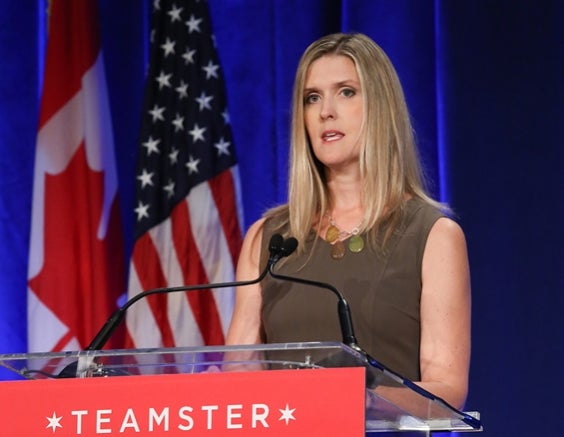 Laura Lucafo is a member of Teamsters Local 727 in Chicago. She is attending the 2014 Teamsters Women's Conference in Chicago. At the conference, Lucafo told her story of unfair treatment, standing up for what's right and winning as a union member. This is an excerpt from her story.
I'm a pharmacist and a Teamsters Local 727 member. I was called into the office at my work one day, when I was three months pregnant with my first child, and terminated. I was told my termination was effective immediately. There was no notice or cause given. I was shocked. I always enjoyed working with my patients.
Thank goodness I was part of the Teamsters Union. I never realized how important the union is until I needed the union. My local stood by me every step of the way.
My case went to arbitration and the arbitrator agreed that my rights were denied. I was reinstated with full back pay, benefits and seniority.
I am involved in my union now. I attend monthly meetings, I am involved in committees and I am a steward. I also negotiated the new contract with my fellow stewards.
Now, I have two children. It's not easy sacrificing precious time, but it is so necessary. I encourage all of you to get involved and to make your local union and the Teamsters Union stronger.
Until this day, I will never know if someone did not personally like me or if heads needed to be cut. I'm not the only pharmacist that was terminated that day. Interestingly, I was the only one who fought back.
Thank you to Joint Council 25, John T. Coli and everyone at my local. I am so thankful to be a Teamster.
Teamster women: Be strong and believe in yourselves. Employers will continue to shock you with unfair labor practices and it is possible that your employer will do you wrong, but the Teamsters will fight for you. And you will win.
Follow up-to-the-minute coverage of the 2014 Teamsters Women's Conference on www.teamster.org; "Teamsters" on Facebook; and @Teamsters on Twitter, #teamsterwomen.
« Previous
Next »