D.C. Taxi Drivers Demonstrate As Council Votes On Bill To Regulate Ride Services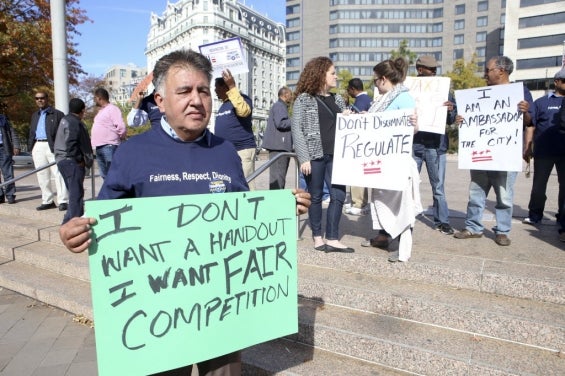 (WASHINGTON) – Hundreds of D.C. taxi drivers circled Freedom Plaza and packed a D.C. City Council hearing room today to protest a bill to regulate private sedan services that drivers say continues to give the services a huge competitive edge.
"We are here today because this is the final vote and our livelihoods are on the line," said Ziena Abraha, a D.C. taxi driver and member of the Leadership Council of the Washington, D.C. Taxi Operators Association, which is affiliated with Teamsters Local 922 in Washington, D.C. "The council has not listened to us so far, but we will continue to fight for fairness."
Although several amendments were added to the bill, it still falls short in creating a level playing field between the services, such as UberX and Lyft, and the D.C. taxis.
The bill was approved today by a vote of 12 to 1, with Councilmember Jim Graham voting no.
The council refused to consider five of the nine amendments that were discussed, said Royale Simms, a Business Agent with Local 922.
"The council used a technical argument to avoid voting on the five amendments that would have addressed fairness and consumer protections," Simms said. "The excuse was that Councilmember Graham didn't prepare a fiscal impact analysis, but these were important issues."
Simms said drivers will not give up.
"Our fight is not over," Simms said. "Communities and taxi drivers around the nation and around the globe continue to fight for fairness and we will do the same. Today's council vote threatens the livelihoods of several thousand drivers and their families. This is supposed to be a progressive council in a progressive city, but what happened today is the polar opposite."
« Previous
Next »