Don't Let Congress Trade U.S. Jobs Away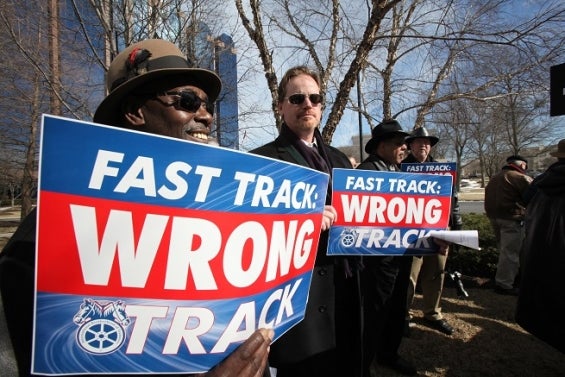 Editor's note: This is the fourth of five Teamster In Depth blog postings set to run every Tuesday leading up to the Nov. 4 election that will examine issues of importance not only to Teamsters, but all workers. It is because of these matters that it is imperative for hardworking Americans to educate themselves and vote for pro-worker candidates this fall. Click here, here and here to read previous election-related blogs.
Hardworking Americans have seen a significant decline in the availability of middle-class jobs in this country during the last 20 years. And that is largely due to one thing – lousy trade deals approved by Congress.
Whether it is the mother of all bad trade pacts in NAFTA that led to some 1 million lost U.S. jobs or other more recent corporate boondoggles such as the Central American Free Trade Agreement (CAFTA) or the U.S.-Korea Trade Agreement (KORUS), such agreements have caused nothing but pain for workers. But more hard times could be on the horizon, especially if elected corporate cronies are left to vote on future agreements.
The U.S. is currently involved in negotiating three trade deals – the Trans-Pacific Partnership (TPP), the Transatlantic Trade Investment Partnership and the lesser-known Trade in Services Agreement (TISA) – that could further ship good-paying jobs overseas and leave American workers to pay the tab for the private sector's cheap labor, cheap goods and huge profits.
The first battle in the war against the TPP, TTIP and TISA could come as soon as next month when Congress returns to Capitol Hill after the election. It is then that lawmakers could consider whether to approve fast-track trade authority that would limit debate on trade deals and ban amendments. Only an up-or-down vote would be permitted on trade pacts if fast track is approved.
The Teamsters have joined with other allies to urge lawmakers not to move on fast track and instead create a new vehicle for trade deals. But the fate of such an effort is contingent on whether elected officials actually care about the issue.
The same is true with TPP, TTIP and TISA. TPP, which is a 12-nation Pacific Rim trade pact, is nearing completion but has been bogged down by several differences with Japan in particular. Congressional members until recently had no idea what was in the agreement, and even now don't have full access to all its contents. The public, meanwhile, is completely in the dark on what the pact would mean for rank-and-file workers.
TTIP, meanwhile, is a job loser for American workers based on leaked details of its still-secret text. Labor provisions expected to be included in the deal do not provide enough protections. Additionally, language that would bar preferred status to national companies in government purchasing – like the Buy American program – would starve job creation.
And TISA could do to public sector workers what NAFTA did to the manufacturing sector. Big business is looking to privatize government services not only in the U.S., but worldwide. Concerns about the potential agreement were significant enough that hundreds of union representatives from 25 countries attended a conference about the deal at the International Brotherhood of Teamsters headquarters last month.
So where do the Teamsters and workers go from here? They've seen the destruction that NAFTA and trade pacts already in place have brought. It proves one thing – we don't need any more free trade agreements, we need fair trade agreements!
It is clear that now is the time to stop letting massive corporations ship American jobs overseas and in the process dump U.S. wages overboard along the way. This country needs to rebuild the middle class and that will only come if trade deals include provisions that protect workers.
But that won't happen if union members don't get out and vote. On Nov. 4, Americans get their say. Protect U.S. jobs by supporting candidates that stick up for regular people.
« Previous
Next »