Teamsters Continue Get-Out-The-Vote Effort in Chicago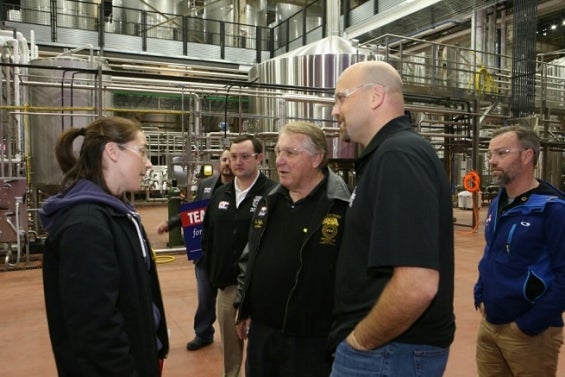 Brewers and bottlers at Lagunitas Brewery Company, members of Teamsters Local 727 in Chicago, today confirmed they will be voting in advance of the Nov. 4 election during a visit by Teamsters General President Jim Hoffa.
Hoffa has been in the Midwest, beginning in Milwaukee, all this week to urge Teamsters to utilize early voting and support union-friendly candidates. "Everyone should vote early here in Illinois," he said. "This election is very important and you need to encourage your family and friends to not only vote early but vote for candidates which believe in unions and all they stand for in support of working families."
Lagunitas Brewery Company employs 70 Teamster members and is a recent addition in the Chicago area. Lured by the growth in economic growth in Illinois, the California-based company opened this facility in the last year.
"I'm proud to work at this brewery as a Teamster," said Kyle Olsen, a member of Local 727. "We've got to vote in candidates that will bring in union jobs to Illinois. I am going to go out and vote tomorrow, if not today."
Steve Syreggelas, also a member of Local 727, pledged to ask his friends and family to vote for labor-friendly candidates, too. "Supporting union jobs in Illinois is very important. At the Lagunitas Brewery we make over 20 different craft beers and we are proud to be Teamsters brewing and bottling beer."
Hoffa also went to the Chicago Film Studios where he met with Teamsters working in the TV/film production industry. Local 727 represents drivers for the props, makeup and talent vans and trucks at the studios. Chicago Fire and the new series Empire are both being filmed and produced at the studios.
« Previous
Next »