Anti-Union Backers Rev Up RTW Legislative Efforts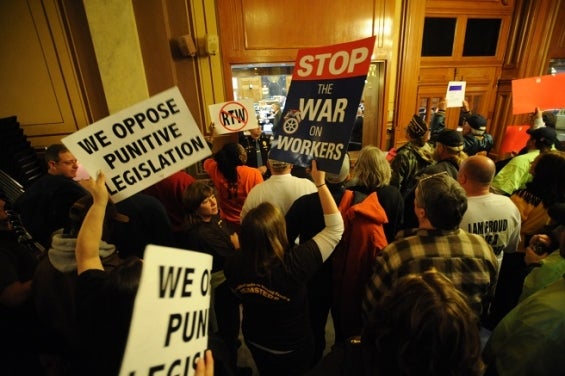 A posse of new anti-worker politicians elected in November may not have taken office yet, but that is not stopping elected officials from letting it be known that they will pursue so-called right-to-work (RTW) legislation that will lower wages and limit rights in the workplace.
Lawmakers in five states – Missouri, New Hampshire, New Mexico, Ohio and Wisconsin – have made it clear they will pursue so-called RTW in their legislatures. And local leaders in Kentucky are defying state law by trying to implement such measures at the county level right now. Despite the fact that union jobs earn $200 more a week, too many officials are again siding with big business.
The most absurd action is currently taking place in the Bluegrass State, where local Tea Party folks frustrated by the fact they haven't been able to push no-rights-at-work through the Legislature are going rogue. Despite that fact that the state attorney general ruled last week that "local governments have no power to enact right-to-work ordinances" because it is preempted by the National Labor Relations Act, officials in Warren County have done so and other counties have taken preliminary actions to do the same.
Efforts in Kentucky are being stoked by the recently formed American City County Exchange, which is a newly created off-shoot of the virulently anti-union American Legislative Exchange Council (ALEC). They see the state as a testing ground for whether so-called RTW can be fought at the local level. That is a move that should concern workers everywhere.
Meanwhile, lawmakers are moving on the state front as well. In Wisconsin, for example, some elected officials are now trying to bring to the private sector what they wrought on public sectors workers back in 2011. State Rep. Chris Kapenga is planning to introduce legislation, and the idea has some support in the Legislature.
What it doesn't have is the backing of workers or businesses. The Teamsters and other unions will certainly be fighting any such efforts. More surprising, however, is the coalition of more than 300 construction-related businesses in Wisconsin that have pledged to work to defeat RTW. The Wisconsin Contractor Coalition (WCC) says the legislation would put the state's business model at risk.
"Wisconsin construction companies have a strong partnership with private-sector trade groups to build infrastructure that helps our economy grow," a spokesman said. "WCC believes so-called right-to-work legislation would seriously diminish what is very beneficial for all parties involved. We are working with Republicans and Democrats alike to protect this important partnership."
Right-to-work is a ruse. These laws depress wages, resulting in workers making about $1,500 less than those living in non-RTW states. They are also more likely not to receive health insurance and more likely to work in a dangerous workplace. In addition, it is proven not to be a deciding factor in where businesses locate.
Lawmakers must resist the cheap corporate rhetoric pushed by ALEC and others that makes right-to-work seem like a solution. It isn't one that will benefit regular Americans.
« Previous
Next »