Roma Warehouse Workers In California Win Teamster Representation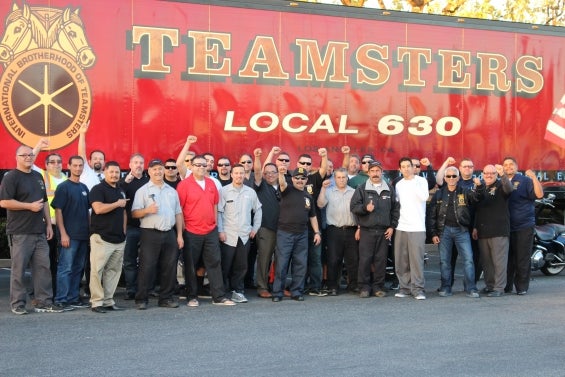 (INDUSTRY, Calif.) – California warehouse workers at Roma Food, a Performance Food Group company, have voted by a 3-1 margin in favor of joining Teamsters Local 630 in Los Angeles, Calif. All 53 workers in the bargaining unit participated in the Feb. 25 election.
The warehouse workers are seeking respect, a voice on the job and an end to substandard wages, benefits and working conditions.
Their victory comes on the heels of an earlier organizing victory among the 84 drivers at the facility who voted 82 percent in favor of joining Local 630 in November 2014.
Like the drivers, Roma warehouse workers are predominantly Latino, handling goods for the division of Performance Food Group (PFG), one of the largest private companies in the U.S. with almost $14 billion in annual revenue and 11,000 employees.
"This is another big win for Roma workers in the city of Industry who are now all represented by Local 630," said Ernesto Lopez, Secretary-Treasurer of Local 630. "The fight continues to protect the strong industry standards of our members by organizing new members. Organizing is the lifeblood of labor – without it we die."
PFG is a major competitor of Sysco and US Foods, where Teamster labor contracts set some of the highest standards in the warehouse industry. The union victory in Industry this week is the second organizing win at the company on the West Coast; other Teamster locals have contracts at several PFG terminals on the East Coast.
Like their driver coworkers, Roma warehouse workers withstood fierce pressure by union-avoidance consultants to vote against the union. The workers received support from drivers and solidarity from Teamster warehouse workers at other companies in the area.
Many of the Roma warehouse workers are young Latinos who have worked at the facility for up to eight years and have seen little to no increase in their pay. John Trujillo, who was sent home by management during the campaign for refusing to remove his union pin, was overjoyed by the victory.
"I would like to thank Local 630 for guiding us to our union election. Voting for a union is what's right for our families and our future. When I was sent home for not taking off my Teamster pin that showed everyone how management wanted to control us. We fought for what we thought was right – better wages, respect and being able to speak for ourselves," Trujillo said.
After the local filed complaints with the National Labor Relations Board, Trujillo was allowed to return to work with full back pay and was told he could wear his union pin and T-Shirt to work.
"This is another blow to the low standards that PFG has set for its workers in contrast to the higher Teamster standards at its competitors like Sysco and US Foods. And it's a major development in the event of a Sysco-US Foods merger, which would make PFG the second-largest food distributor in the country. We now have great momentum to negotiate strong contracts for both the drivers and warehouse workers at Roma," Lopez said.
Founded in 1903, the International Brotherhood of Teamsters represents 1.4 million hardworking men and women throughout the United States, Canada and Puerto Rico. Visit www.teamster.org for more information. Follow us on Twitter @Teamsters and "like" us on Facebook at www.facebook.com/teamsters.
« Previous
Next »