University Unveils First Hoffa Teamster Professor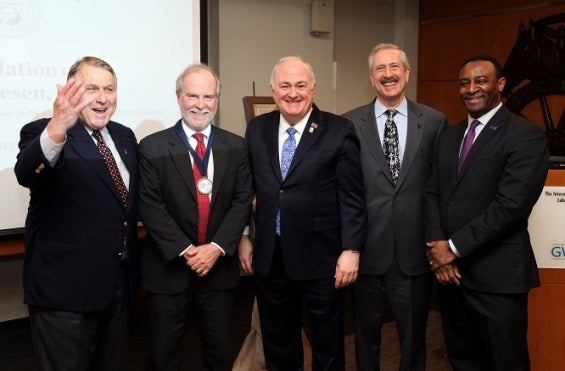 History Professor Eric Arnesen officially became the first James R. Hoffa Teamsters Professor in Modern American Labor History at George Washington University during a ceremony at the Washington, D.C. school yesterday.
The installation of Professor Arnesen marks a completion of the vision the Teamsters had when it joined with the university to create the International Brotherhood of Teamsters' Labor History Research Center. The facility houses the union's vast archives dating back to 1904.
General President James P. Hoffa said the naming of an endowed professorship at GW after his father holds significant meaning for him, given his father's own limited education.
"I wonder what my dad would think of it," he said. "My father, a brilliant man, probably went to the eighth grade. And my mother went to the eighth grade. My sister Barbara and I were both the first to graduate college on either side, and we both became lawyers. So it just shows you how far we've come, the humble roots of moving forward. We should take that into account when we talk about educating people about labor and labor history."
Professor Arnesen, an expert in the history of race, labor, politics and human rights, has written extensively about the role African-Americans played in the early union movement. He said a greater understanding of labor's part in history can only be gained through additional education on the subject.
"Young Americans don't see unions. They don't hear about unions," he said. "It is important to have broader public programming, to get those in academia out in the community sharing what we know and what we have studied out to broader audiences. We need to make the labor component part of the broader conversation."
Steven Knapp, GW's president, called the event a crowning moment both for the university and the Teamsters. The IBT center at the university, which opened in 2010, is dedicated to the study and exploration of the role that the labor movement played in the development of the United States.
« Previous
Next »