Hoffa: Film Tax Credits Are Worth Saving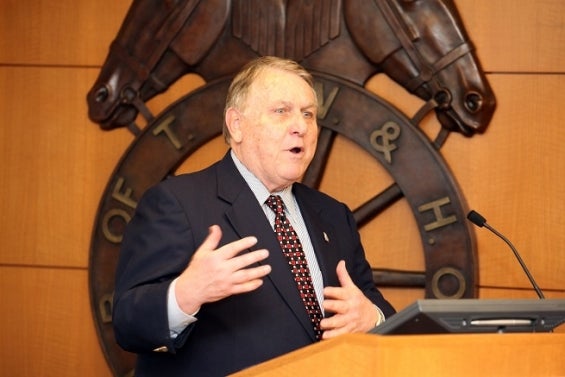 By Teamster General President James P. Hoffa
Published in the Detroit News, March 11, 2015
Lawmakers on the campaign trial in Michigan have rightfully stressed the need for jobs in recent years. They say it is a top priority. But once within the cozy confines of the Statehouse in Lansing, too many seem to lose sight of the issue or its importance to their constituents.
Case in point – a House committee's decision last week to back legislation that ends some $50 million in annual tax credits to encourage films and television shows to shoot in the Great Lakes state. Tea Party conservatives say Michigan can no longer afford the program, even though the industry employs some 800 Teamsters and many others here.
This state has become a major hub for such projects. Blockbuster films such as the upcoming "Batman v. Superman: Dawn of Justice" starring Ben Affleck as well as a bevy of television series have already set up shop here. While the incentives have cost the state $425 million since they were created in 2008, they've generated $1.3 billion in spending by producers in Michigan, ranging from salaries to services, according the state's film office.
Those benefitting are not just those with Hollywood ties, however. It's Michigan truck drivers, carpenters, electricians, and sound and lighting technicians as well. Those in the hotel and hospitality industries also gain from the additional business. But that could all go by the wayside if the tax credit program is terminated.
As Patrick Kelly, a union carpenter, told this newspaper, "A lot of jobs are going to be lost. There are jobs on the line they're not even counting. We feel confident eventually we'll win, but it's affecting the business; the instability does have an impact right now."
Time and again, lawmakers pledge to stick up for workers. But repeatedly they've ultimately decided to turn their backs on them. Enacting House Bill 4122 would be just another example of this. The state would be giving away in excess of a thousand union jobs – work that supports a middle-class family. In fact, the median union job pays more than $200 a week more than non-union work.
So what do many of the same state legislators want to spend taxpayer's dollars on instead? How about plush new offices for state senators! That's right, elected officials in Lansing are ready to spend $134 million on bonds to finance the purchase and refurbishing of a new headquarters for those in the upper chamber.
Meanwhile, the state Senate itself has estimated it would only cost $25 million to renovate their current office building. That would be a $109 million savings, dollars that could help pay for many things, including a continuation of the film tax credit. But that doesn't seem to be a priority for the Republican majority in the state capital.
Lawmakers need to focus less on high-end touches for their offices financed by hardworking Michiganians. Instead, they should worry more about efforts that will allow workers to continue to earn a good wage that will keep a roof over their head and food on the table for their families. Rest assured, the voters will remember if the Legislature decides to spend money on itself rather than keeping people employed.
« Previous
Next »