Teamsters Decry Sysco's Bullying at Rally in Washington, D.C.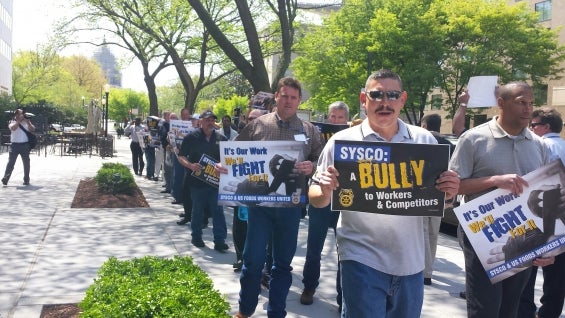 More than 70 Teamsters took part in a raucous rally Tuesday, April 21 to blast Sysco's bullying of workers, its labor law violations and other misdeeds. The group of Teamsters chanted slogans and handed out fliers outside a food service industry meeting in Washington, D.C.
"It's great to see such a big turnout to send Sysco the message that 'enough is enough,'" said Ed Mulford, an employee and steward at US Foods in Baltimore, who is a member of Local 355 in Baltimore. "It's about time somebody stood up to Sysco's arrogance. The company feels like it can do what it wants to do to their employees, to their customers and other players in the industry."
The Teamsters Union is calling out Sysco as a corporate bully during this week's International Food Distributors Association meeting. That's where Sysco, US Foods and other Teamster broadline foodservice employers are holding their annual "Washington Insight" conference to lobby elected officials.
Sysco, with $44 billion in annual revenues, 41,000 employees, and 131 U.S. distribution centers, is the largest broadline foodservice provider in the country – but wants to be even bigger.
That's why Sysco has aggressively pursued the purchase of its only other national competitor, US Foods, the second-largest foodservice company in the country, and equally aggressively pushed back at anyone/anything in its way – including some competitors in attendance at the IFDA meeting.
A merged Sysco-US Foods would create a company five times the size of its nearest competitor by revenue, Performance Food Group.
The Federal Trade Commission calls the merger "unlawful," and a D.C. federal judge will begin hearing evidence in a preliminary injunction hearing on May 5, 2015. The FTC sued to block the merger in February.
Meanwhile, Sysco is flouting federal labor law: When workers seeking job security in a potentially merged company choose to form a union, Sysco mounts an aggressive and hostile anti-union campaign.
In Atlanta, Georgia, the NLRB will issue a complaint against Sysco in the coming days for targeting and terminating 15 union activists during a recent successful organizing campaign.
Sysco has already fired one worker during a campaign in Grand Rapids, Michigan where workers will vote on Teamster representation May 7.
Teamsters represent nearly 8,000 members at Sysco and more 4,000 at US Foods, and are engaged in a national campaign to protect our members at both companies and grow our density in the industry.
« Previous
Next »