Teamsters: Toyota is a Danger to American Families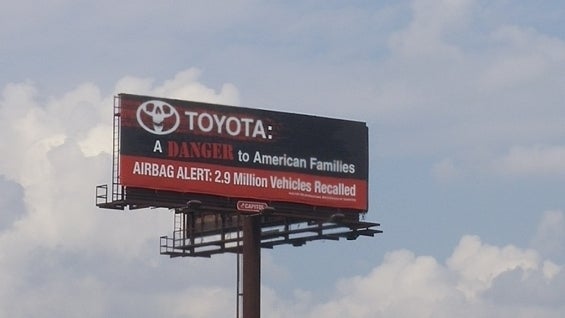 (BALTIMORE) –Today, the Teamsters Union posted the first of several roadside billboards about the Toyota Corporation [NYSE: TM] in order to educate the American public about the economic and safety dangers posed by the company.
The first billboard is located along I-95 in Baltimore and reads, "Toyota: A Danger to American Families."
"Toyota spent years trying to regain consumer confidence after mass recalls in 2009-2011 due to sticking gas pedals and faulty floor mats. Millions more Toyotas are being recalled due to dangerous faulty airbags. Now, on top of these very public issues, Toyota is bidding out much of its automobile transport work to small, unproven operators who undercut the health care protections and retirement security of their drivers," said Kevin Moore, Teamsters International Trustee and Director of the Teamsters Carhaul Division.
Toyotas have been transported in the United States for decades by large, professional automobile transport companies. These companies are proven to be able to handle Toyota's volume, and their operators are skilled, union employees who are able to support their families and communities with stable jobs and dignified retirement benefits.
"In communities like Baltimore that are already economically devastated, destroying good union automobile transport jobs is yet another threat to workers and their families," Moore said.
In 2010, Toyota promised the Teamsters that union drivers would not be displaced by nonunion carriers.
"We don't understand why Toyota has chosen to no longer honor its promises," Moore said. "Toyota has not responded to our request for discussion."
Additional billboards are scheduled to go up in several other U.S. cities over the next two weeks.
Founded in 1903, the International Brotherhood of Teamsters represents 1.4 million hardworking men and women throughout the United States, Canada and Puerto Rico. Visit www.teamster.org for more information. Follow us on Twitter @Teamsters and "like" us on Facebook at www.facebook.com/teamsters.
« Previous
Next »