Labor, Community and Environmental Advocates Call On McDonald's to Protect Workers in its Supply Chain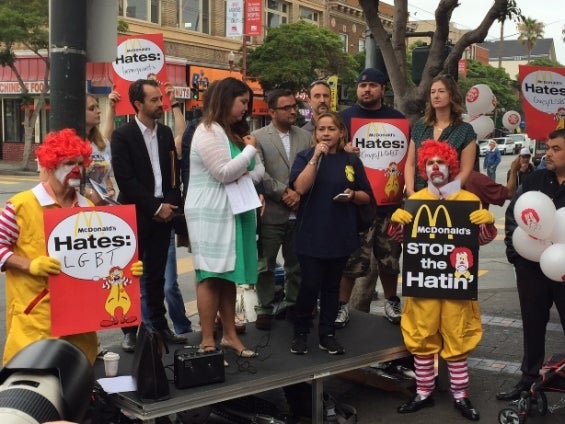 (SAN FRANCISCO) – Advocates from labor, community and environmental organizations joined together to today at a rally outside a McDonald's in downtown San Francisco, to demand that the company adhere to its own supplier code of conduct and protect workers' rights throughout supply chain. View more photos from the event, here.
In 2014, McDonald's did not protect the identity of a Taylor Farms Pacific worker who reported abuses at the fast food chain's supplier. The abuses violated McDonald's published supplier code of conduct. The worker was subsequently fired and McDonald's did not renew its contract with Taylor Farms Pacific, leading to an additional 60 workers being laid off.
"We want McDonald's to come back to Tracy and make things right," said Armida Galeana, a Taylor Farms Pacific worker. "We have heard that the McDonald's is in negotiations with Taylor Farms to come back in the fall. We urge you to return to Tracy and this time, work hard to ensure that the McDonald's code of conduct is fully followed and workers are protected."
Representatives from the Food Chain Workers Alliance, Working Partnerships USA, San Francisco Central Labor Council, Harvey Milk LGBT Democratic Club, Jobs With Justice, International Labor Rights Forum (ILRF) and Greenpeace all joined the workers to voice their disappointment with McDonald's conduct.
"McDonald's isn't looking out for the health of the planet when workers are being abused," said Annie Leonard, Executive Director of Greenpeace. "A sustainable planet includes respected workers."
On July, 21, 2015, the Region 32 office of the National Labor Relations determined that Taylor Farms violated federal labor law when it engaged in 57 unfair labor practices including illegal terminations and suspensions, surveillance and interrogation of workers and threats of plant closure.
Earlier this summer, the ILRF issued a report that documented extensive violations of workers'rights at Taylor Farms Pacific in Tracy, Calif. Workers at the facility have been trying to organize with Teamsters Local 601 for nearly two years.
"Golden Veneer: How McDonald's Empty CSR Promises Failed Workers at Taylor Farms," found that the fast food company "caused further damage to the workers" by ignoring reports of workers' rights violations at the Tracy facility.
In the report, the ILRF called on McDonald's stand by its code of conduct and help workers throughout their supply chain that are subjected to persecution and anti-union activities:
"[W]e urge McDonald's to correct the flaws in their system and to cut a new path in corporate accountability towards programs based on binding standards, transparent reporting, and engagement with trade unions to ensure workers' rights are protected throughout their supply chain."
David Campos, San Francisco District 9 Supervisor, spoke at the rally in support of the workers.
"I have one thing to say to McDonald's – if you want to do business in San Francisco then stand with us to protect workers' rights," Campos said. "Every worker, from the men and women in the fields to those that package and deliver food to McDonald's locations, have the right to work without fear, organize without interference and earn a living wage so they can provide for their families."
« Previous
Next »