Uncategorized
MLK Stands as Inspiration for Workers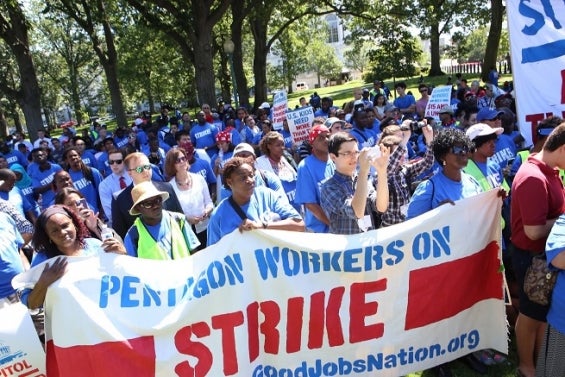 (Welcome to the new home of the Teamster Nation blog. As we adjust to the new set-up, we'll be bringing you "Today's Teamster News," our daily news roundup, again starting tomorrow. Going forward, for all Teamster Nation blog posts visit www.teamster.org/blog.)
Behind every U.S. movement for higher wages or fair treatment in the workplace is the efforts of one American icon who gave his life standing up for others – the Rev. Martin Luther King, Jr.
As thousands of everyday workers continue the effort to raise the minimum wage to $15 an hour or stand up for their rights to organize on the job, they are following the footsteps of a man who six decades ago began what was then a quixotic fight to bring equality to African-Americans nationwide and fairness on the job to millions more.
It's that second part that is often forgotten. But as one U.S. Capitol employee fighting for a living wage wrote in The Hill newspaper today, it is just as important to MLK's legacy:
"Dr. King didn't just give speeches, he also marched hand in hand with the mostly African-Americans seeking to vindicate their right to organize for good jobs. In fact, MLK was gunned down in Memphis where he was leading a strike of low-wage sanitation workers.
"Today, workers who are 'Fighting for $15 and a Union' are walking in the footsteps of Dr. King. If he were alive today, I'm sure that he would be on the picket lines with me and my co-workers."
The Teamsters were proud supporters of Dr. King and stand behind the movement of workers fighting to improve their pay and the right to organize today. As we've written previously:
"Teamsters and the labor movement stand with the Fight for 15 because we know this is not just about McDonald's and Walmart. Wages for all workers have not kept up with rising costs of living and increased worker productivity. The result is growing income inequality between corporate bosses and the rest of us."
The fight for fairness has been long and difficult. Income inequality is a scourge of U.S. society. The Teamsters pledged to push forward for workers as part of its "Let's Get American Working" platform last year.
This union will not stop. Workers can't either.
« Previous
Next »