Hoffa: Past TPP Concerns Are Still Today's Reality for Bum Trade Deal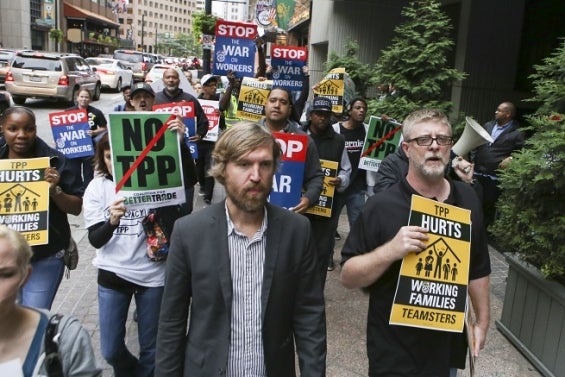 (WASHINGTON) – The following is a statement from Teamsters General President James P. Hoffa about trade representatives from the U.S. and 11 other countries involved in the Trans-Pacific Partnership (TPP) signing a final agreement later today in New Zealand that allows the trade deal to now go before all member nations for ratification.
"Six years ago, the Teamsters submitted comments on the TPP that detailed what this Pacific Rim trade deal would need to contain to receive the backing of this union. But despite intense lobbying from the Teamsters and our allies, all of our concerns for workers here and abroad were ignored.
"That is unacceptable. Workers' contributions in the U.S. and across the globe must not be shunted aside in favor of enriching the corporate elite. Keeping jobs in this country should matter. Keeping workers safe should matter. And allowing everyday Americans to earn a fair wage that keeps food on the table and a roof over their heads should matter.
"With this signing, it now comes down to Congress to put a halt to the TPP. There is no shortage of reasons why the agreement should be rejected. Currency manipulation, allowing foreign corporations to sue the U.S. government and the fact the deal would allow unsafe food and products on to store shelves are just a few.
"Luckily, more and more lawmakers in both parties are hearing the message. They are pushing back on this deal because they realize it is not good for the American people or this country's economy. The Teamsters applaud them and will remain resolute in fighting to stop the TPP while sticking up for workers."
Founded in 1903, the International Brotherhood of Teamsters represents 1.4 million hardworking men and women throughout the United States, Canada and Puerto Rico. Visit www.teamster.org for more information. Follow us on Twitter @Teamsters and "like" us on Facebook at www.facebook.com/teamsters.
« Previous
Next »