Uncategorized
Local 728 Delivers in Water Effort for Flint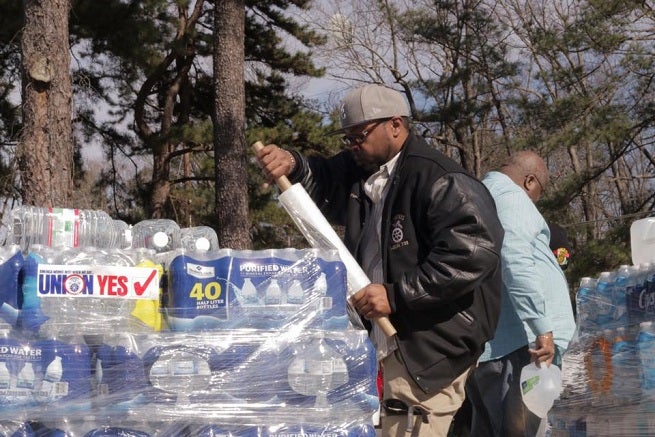 In the spirit of lending a helping hand to those in need, Teamsters at Local 728 in Atlanta collected 15 pallets of bottled water to aid the community affected by the water crisis in Flint, Michigan.
Stan Watson, Dekalb County Transportation and Labor Commissioner, and Dewey Mcclain, Georgia House Representative and Atlanta-North Georgia Labor Council President, initially approached Local 728 to assist in a collection drive to help Flint residents.
"It was truly a privilege to be able to serve our community in this capacity," said Local 728 President Randy Brown. "Thank you to all my Teamster brothers and sisters who made this possible. I would also like to give a special thanks to Brother Chuck Stiles."
Stiles, Local 728 Vice President and Assistant Director of the Teamsters' Solid Waste, Recycling and Related Industries Division, said he received the call from Watson and immediately went to work with Local 728 business agents Mike Dollar and Vicky Beavers, calling YRC representatives to provide the trailer and recruiting members of Local 728 and the Georgia chapter of the Teamsters National Black Caucus (TNBC) to help supply and transport supplies.
"The outpouring of support has been inspiring. I'm proud of our union for taking the initiative to help their brothers and sisters in need. I want to thank Mike and Vicky for their help pulling this off. We couldn't have done it without them," Stiles said.
Local 728 is just one of several Teamsters locals which has sent supplies and volunteers to the disaster areas of Flint, along with generous donations to the Teamsters Disaster Relief Fund.
For more information on how you or your local can help in the relief effort, please call the Disaster Relief Fund at (202) 624-7471 to strategize on how to best provide assistance.
« Previous
Next »