Uncategorized
No Contract, No Peace: IBT UAL Mechanics Picket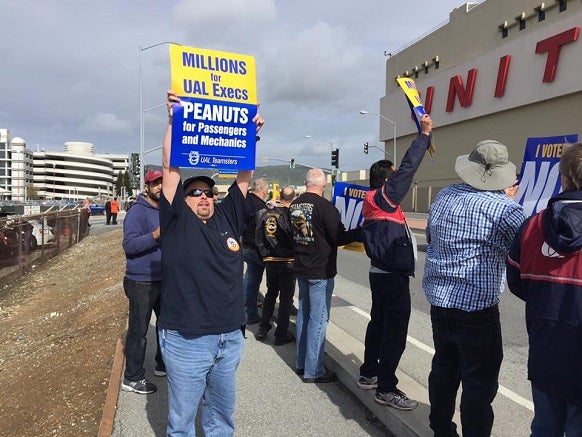 Hundreds of IBT United Airline's mechanics and Communications of America AFA flight attendants joined picket lines on Friday at the UAL San Francisco airport's maintenance base. The mechanics rejected a concession contract and are fighting to win a decent contract. UAL had profits of over $3.6 billion in 2015 but continues to demand concessions and a three-tier wage scale for mechanics. CWA AFA flight attendants are also without a contract after years of no wage increases.
Last week, mechanics voted down United's contract proposal by 93 percent. Mechanics also voted overwhelmingly to authorize a strike. Over 9,000 mechanics at United are represented by the Teamsters Union, which will petition the National Mediation Board for a strike release.
The mechanics held picket signs that read, "Millions for UAL Execs—Peanuts for Passengers and Mechanics." Line mechanics and technicians at other United facilities across the United States also participated today by wearing "Tell UAL: NO" stickers at their workplaces.
« Previous
Next »