Uncategorized
OUR Walmart Wins Ruling Against Mega-Retailer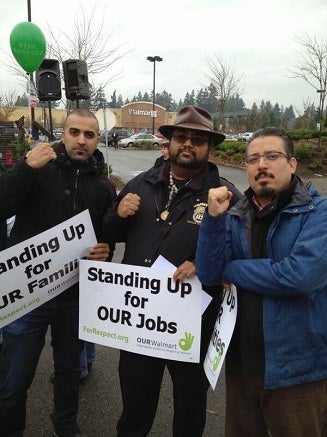 Mega-retailer Walmart is notorious for its virulent anti-worker tactics that hold down wages and limit worker rights on the job. But finally, the company is being called out for its tactics.
A National Labor Relations Board (NLRB) administrative law judge recently sided with 14 workers the company illegally fired in 2013 for standing up for their rights, ordering Walmart to rehire them. The decision also called on the retailer to rescind its disciplining of 41 additional employees.
The ruling by ALJ Jeffrey Carter is a notable win for the workers. But it was not as far reaching as some had hoped. He decided their job actions, part of OUR Walmart's nationwide campaign of one-day strikes in 2012 and its "Ride for Respect," which saw members of the workers' group descend on the firm's Arkansas headquarters during its annual meeting the following spring, affected only 30 of Walmart's 4,300 U.S. stores.
So in his 137-page judgment in January, Carter ordered standard NLRB notices posted at those 30 stores. The notices say Walmart admits it broke labor law against OUR Walmart members and promises not to do it again. Carter did not order Walmart to tell workers and managers at other U.S. stores about the ruling. And labor law bans fines on Walmart.
The case involved OUR Walmart's initial actions, including one-day strikes, in 2012 and its meeting with company executives the following year. OUR Walmart, aided — but not controlled by — the United Food and Commercial Workers, launched its campaign to put public pressure on the monster retailer to improve wages, hours and working conditions at the stores.
After the one-day strikes, and despite prior company statements, it fired the 14 workers and disciplined the others. Both moves broke labor law, Carter found. Walmart illegally threatened the workers for planning to take "protected concerted activity," the strike, Carter said. It also illegally "issued disciplinary personal discussions" to workers "because they participated in labor activity on their own time," he added.
Walmart officials illegally read the workers "talking points that they could reasonably construe" as a work rule with an illegal ban on strikes, Carter added. And it illegally "coached" — disciplined — the workers for engaging in the protected strike, he explained.
The Teamsters have been long-time supporters of OUR Walmart. This is just the latest step in their fight for justice.
Press Associates, Inc., contributed to this report.
« Previous
Next »