Uncategorized
Farm Workers Institute Boycott of Wendy's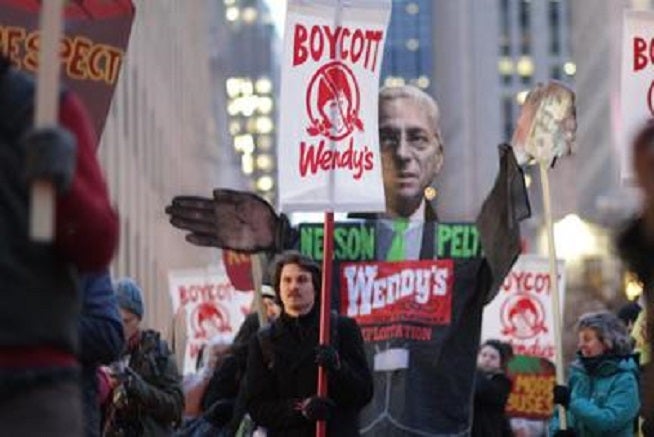 The labor-backed Coalition of Immokalee Farmworkers is calling for a national consumer boycott of Wendy's to force the hamburger chain to end human rights abuses of farmworkers who provide the produce that tops its burgers.
The boycott led off with a protest march earlier this month in Manhattan to the corporate offices of Wendy's board chair Nelson Peltz, whose hedge fund, Trian Partners, is the chain's largest shareholder, the Institute for Southern Studies reported.
A five-city workers' voice tour will start soon, the coalition said.
"Though the South added millions of jobs in recent years, the region's low-road approach to economic development meant many of them are low-paying jobs that leave families fighting to get by," the Institute says. But the farmworkers' jobs are even worse than that.
The farmworkers, who pick the produce – particularly tomatoes – that top all fast-food chains' burgers, are paid pennies per bushel for the vegetables they garner. The other big fast food chains, led by Taco Bell a decade ago, started raising those payments after pressure from the coalition, unions, workers, consumers and their allies.
The other chains pay a penny per pound premium for the tomatoes, bell peppers and other produce they buy from farms in Florida, the Carolinas, New Jersey and Virginia. The added money goes to the farm workers.
The coalition also wrote to Wendy's chieftains a decade ago, saying that chain too should pay decent wages and stop human rights abuses in the fields, following the guidelines of the coalition's Fair Food Program. It never heard back. So it instituted the boycott, the second it's ever called.
"Wendy's is profiting from farmworker poverty," the coalition explained. "Wendy's stands alone as the last of the five major U.S. fast food corporations to refuse to join the FFP: McDonald's, Yum! Brands," – Kentucky Fried Chicken – "Subway and Burger King are all part of the program," which has been lauded by consumer advocates and the Obama White House.
"By refusing to participate, Wendy's is deriving a very real cost advantage over its competitors, while continuing to provide a market for less reputable growers."
Press Associates, Inc. contributed to this report.
« Previous
Next »