Food Safety Advocates Alert Chipotle Customers About Unsafe Food Supplier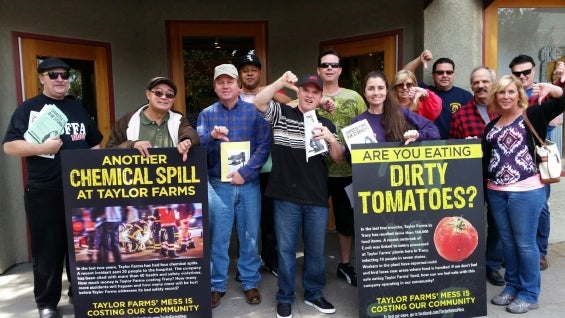 (SACRAMENTO) – Community activists and workers held protests outside two Chipotle restaurants today to inform customers about food safety problems and other violations at Taylor Farms in Tracy, Calif., which supplies tomatoes to Chipotle franchises in the region. As the fast-casual Mexican food chain has been roiled by numerous food poisoning outbreaks, protesters held signs and passed out leaflets telling customers in Sacramento and Manteca, Calif. that Chipotle's food safety problems run deep in its supply chain.
"We are here to support the workers at Taylor Farms," said Amy Glass, a community supporter who spoke at the protest in Manteca. "We have a message for Chipotle and that is if it's really serious about cleaning up its image, it needs to take a hard look at where it gets its tomatoes."
Taylor Farms, the salad processing giant that supplies Chipotle and other food retailers nationwide, has recalled more than 150,000 food items in the last few months and has also been cited for more than 40 health and safety violations at its facilities in Tracy. A recent outbreak of E.coli was linked to celery processed at Taylor Farms in Tracy, infecting 19 people in seven states.
Food safety advocates were joined by Taylor Farms workers in spirited actions at both locations during the lunch hour rush. Some wore tomato costumes and held signs asking customers "Are you eating dirty tomatoes?" The workers who process Chipotle tomatoes say they have observed mold and bird feces near production lines. They also report that a Chipotle-required food safety test for salmonella is sometimes skipped under management time constraints.
"Workers see issues with food safety all the time – for example rotten or moldy products – but when we raise concerns we are told to go back to work," said one Taylor Farms worker at today's protest who asked not to be named for fear of retaliation by the company.
Workers and community supporters say there is a lack of adequate training at Taylor Farms in Tracy, which has resulted in at least four chemical spills in recent months and hundreds of worker injuries over the years.
A recent chemical spill of chlorine dioxide led to 20 workers – including two pregnant women – being hospitalized. At today's protests, food safety advocates said it is not a coincidence that Taylor Farms has had so many problems with food safety while dangerous working conditions plague its operations.
Taylor Farms is also being prosecuted by Region 32 of the National Labor Relations Board with 58 labor law violations. Protesters told customers at Chipotle that these labor abuses contradict the food chain's "Food with Integrity" program, which includes a commitment to sourcing from businesses that respect workers. Other workers have also complained about sexual harassment and discrimination at the plant that is often ignored by management.
"When you don't respect the rights of your workers who are the front line of food safety, it isn't surprising that the safety of your products are also undermined," said Ashley Alvarado, Secretary-Treasurer of Teamsters Local 601 in Stockton, Calif., which has been supporting Taylor Farms workers in their effort to organize and improve working conditions. Taylor Farms is facing labor violations charges due to retaliation, threats and other abuses against workers attempting to organize.
"We are here with the workers and others to expose what is going on at Taylor Farms and to show Chipotle that its customers want it to do something about the problems at Taylor Farms," Alvarado added.
Taylor Farms is the world's largest salad processor supplying major companies including McDonald's, Chipotle, Starbucks, Walmart, Costco, Safeway and Albertson's, among others.
Founded in 1903, the International Brotherhood of Teamsters represents 1.4 million hardworking men and women throughout the United States, Canada and Puerto Rico. Visit www.teamster.org for more information. Follow us on Twitter @Teamsters and "like" us on Facebook at www.facebook.com/teamsters.
« Previous
Next »