Uncategorized
Teamster Widow Shares Terrible Cost of Proposed Pension Cuts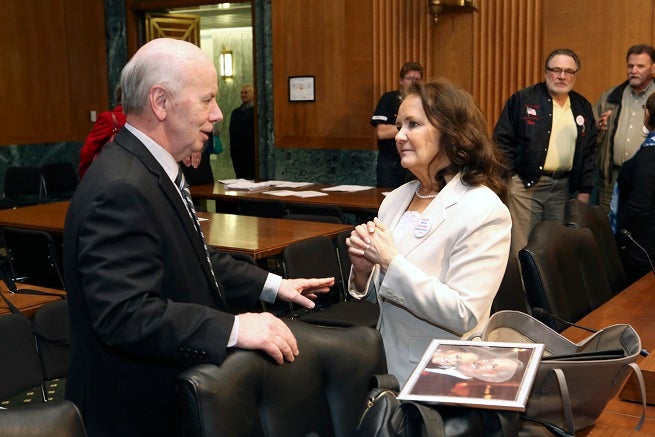 Rita Lewis became the face of proposed cuts to the Central States Pension Fund on Capitol Hill today. She painted a devastating picture of how hundreds of thousands of Teamster retirees and their families would be financially ruined if the pension fund's plan that allows cuts of up to 70 percent is ultimately approved.
It was a new role for Lewis. Her husband, Butch, was a leader of the Southwest Ohio Pension Committee and helped lead the charge to stop these unfair cuts authorized as part of the Multiemployer Pension Reform Act (MRPA) that was included in an omnibus appropriations bill approved in late 2014. But last New Year's Eve, Butch died of a stress-induced massive stroke. So that battle is now hers, she said, not only to protect her widow's pension but that of many, many other people as well.
"These cuts are hitting us like a ton of bricks and none of us has time to prepare for the cuts, or make additional accommodations like we might have done if we were still young," she told members of the Senate Finance Committee. "It's cruel to cut our pensions now when few of us can go back to work, leaving us without options to make up the difference in our incomes."
Lewis said her survivor's pension is projected to be slashed by 40 percent. She worries she won't be able to take care of her father, who has stage IV cancer; that she'll have to sell her dream home she shared with her late husband. And she is also heartbroken that the cuts would prevent her from helping her children and contributing to the college costs of her grandchildren.
That said, she acknowledged she is in a much better financial position than many. She told the story of 33-year trucker Whitlow Wyatt, whose $3,300 a month pension would be reduced by 60 percent – down to $1,018 a month – if Central States' application is approved by the Treasury Department. Wyatt's wife has stage IV breast cancer and he will have to sell his home.
Several lawmakers appeared moved by Lewis' testimony and said they hoped it would spark change. "Mrs. Lewis, thank you for the powerful wake-up call you've delivered this morning," said Sen. Ron Wyden (D-Ore.), the committee's ranking member. "You've made it clear how we need to act quickly to fix this."
Sen. Rob Portman (R-Ohio) said the size of the Central States' pension cuts show how MRPA is a bad piece of legislation. "If there were hundreds of thousands of social security beneficiaries getting their benefits cut by 70 percent, there would be outrage," he said. "These Teamsters played by the rules."
Sen. Debbie Stabenow (D-Mich.) said the pension reductions are particularly outrageous given that top Central States officials have continued to receive salary hikes and bonuses while plan participants get hammered. She said she plans to introduce legislation in the coming days that would focus such officials to share in the financial pain as well.
Meanwhile, Lewis told committee members it is time to put aside politics and make changes that will help pension members. "This is not a partisan issue," she said. "This is an issue of fundamental American values, of keeping earned promises to this nation's retirees."
« Previous
Next »