Uncategorized
Women's Work Should Receive Equal Pay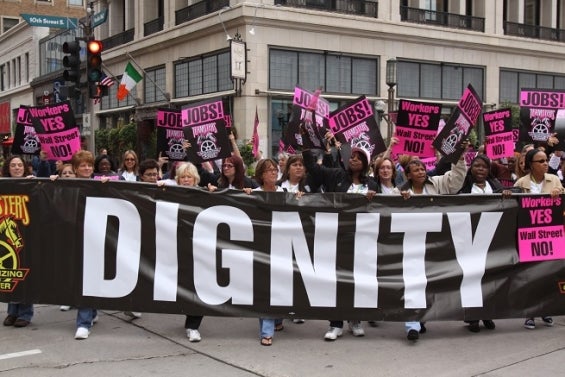 March is Women's History Month in the U.S., and this week was International Women's Day. But while the Teamsters honor the accomplishments of women both here and abroad, it is apparent that the continuing struggles of working women are very real.
It's fairly well known that women on average in this country only make 79 cents for every dollar that a man earns. That gender pay gap has changed little over the past two decades. And it is even worse for African-American (60 cents) and Latino (55 cents) women. Even worse, a report last year said that American men will likely earn more than women until 2058.
The news, however, is even more depressing on the global front. A report last year argued that global gender parity will not be realized for another 177 years. There is nothing fair about that. In fact, it is indefensible.
Part of the reason behind the gender wage gap, at least in this country, is because it often falls on women to be a family's main childcare provider. That, in turn, leads to fewer hours worked and smaller paychecks for many, given they don't receive paid family or sick leave.
Luckily, some are taking this matter on. In Minnesota, for example, lawmakers are launching an effort to ensure paid leave for workers. And the federal contractors and Vermont workers are on their way to receiving such benefits as well. Still, some 44 million workers don't have access to such paid leave.
One place where women can receive better pay and benefits on the job is through union jobs. A report released by the Institute for Women's Policy Research in August confirmed what we all know—that women in unions earn more and have better benefits and workplace protections than women without a union. More women than ever are in the workforce and more are joining unions.
That is a path to success that all employers should be attempting to follow.
« Previous
Next »