Uncategorized
Verizon Workers Strike Over Proposed Cuts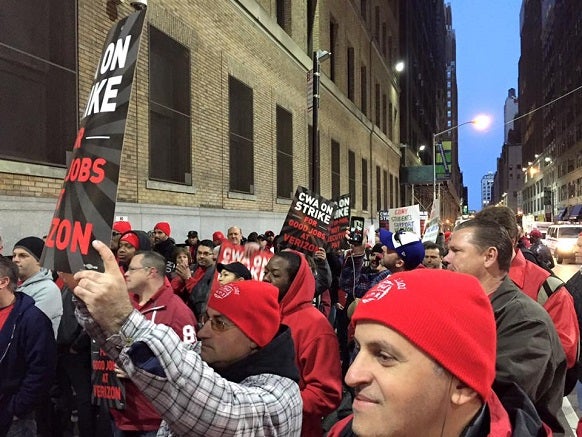 Some 40,000 unionized Verizon workers walked off the job this morning to protest the threat of job and benefit cuts as well as outsourcing numerous jobs overseas. The action, the largest in the U.S. in several years, came more than 10 months after contract negotiations began.
Verizon, the nation's second largest telecommunications provider, made $39 billion over the past three years and $1.8 billion in the first three months of 2016. Negotiations on a new contract with Communications Workers of America (CWA) and International Brotherhood of Electrical Workers (IBEW) have hit an impasse, largely due to the corporation's desire to move jobs to Mexico and the Philippines, transfer workers to job sites outside their home regions for weeks or months at a time, close down call centers and slash health and pension plans.
"We're standing up for working families and standing up to Verizon's corporate greed," said CWA District 1 Vice President Dennis Trainor. "If a hugely profitable corporation like Verizon can destroy the good family-supporting jobs of highly skilled workers, then no worker in America will be safe from this corporate race to the bottom."
Verizon's corporate greed isn't just harming workers' families, it's hurting customers as well. Service quality has deteriorated to the point that New York State's Public Service Commission has convened a formal hearing to investigate problems across the Empire State. In the last few weeks, regulators in Pennsylvania and New Jersey have launched similar inquiries into Verizon's operations.
For years, Verizon has been cutting vital staff — it has nearly 40 percent fewer workers now than a decade ago. Verizon has failed to hire the personnel necessary to properly roll out FiOS, the high-speed broadband service that is still unavailable to many of its customers. In cities like Philadelphia and New York, Verizon has failed to meet the buildout obligations under their citywide cable franchise agreements.
In the end, it's just another example of corporate big wigs trying to wrangle every last cent from its workers while delivering substandard service to its customers.
« Previous
Next »