Uncategorized
Central States Victory is Not the End of Pension War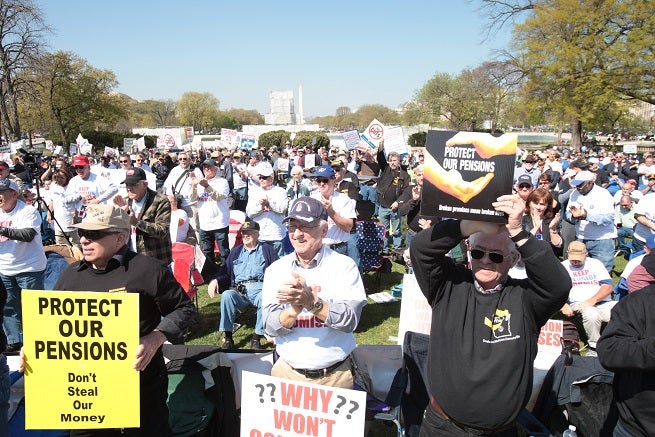 Central States Pension Fund (CSPF) participants received word this afternoon that they won the first battle in the war to protect their hard-earned retirement nest eggs. The Treasury Department rejected CSPF's proposal to dramatically slash the pensions of hundreds of thousands of current and former Teamsters by as much as 70 percent.
The victory is a credit to retirees, members and the International Brotherhood of Teamsters, who fought relentlessly to defeat the proposal. Whether it was registering their disapproval at Treasury meetings across the South and Midwest in recent months or turning up en masse for a Capitol Hill rally in April, current and former union members displayed what Teamster Power is really all about.
CSPF filed the application for cuts with the Treasury Department in September 2015 as allowed under the Kline-Miller Multiemployer Pension Reform Act of 2014 (MPRA). Treasury appointed Kenneth Feinberg as a Special Master in June 2015 to review all applications submitted by funds under the MPRA. Feinberg determined that the CSPF application did not meet all the requirements set by Congress in the MPRA.
"On behalf of our union and the more than 400,000 retirees and participants in Central States Pension Fund, I would like to thank Mr. Feinberg and the Department of Treasury for denying these massive cuts that would destroy so many lives. We worked with thousands of retirees to educate Treasury and Congress on the devastating impact of the proposed cuts," said Teamsters General President Jim Hoffa. "However, this is not over and the Teamsters Union will continue to fight to protect pensions."
Earlier this year, Teamster officials briefed Hill staffers in two separate meetings about Central States. They told them the proposal was totally unrealistic in its projections and that even if it were to meet them, Central States itself said there is only a 50 percent chance the fund would remain solvent long term. Ultimately, Feinberg said the Treasury Department determined the proposal's odds of success were even less than that due to updated financial projections.
Now, those who care about the future of Central States must redouble their efforts and push Congress to find a permanent fix that will secure the pension's financial viability. That could come via passage of the Pension Accountability Act, which addresses concerns with MPRA, or the Keep Our Pension Promises Act, which would protect workers and retirees from cuts to their earned retirement benefits. The IBT will continue to strongly advocate for the bills on Capitol Hill as well.
The Teamster family remains steadfast in its determination to work in lock-step to defeat efforts to curtail the pension benefits of those who worked hard and contributed towards them for decades.
« Previous
Next »