Uncategorized
Joint Council 43 Lends a Helping Hand to Flint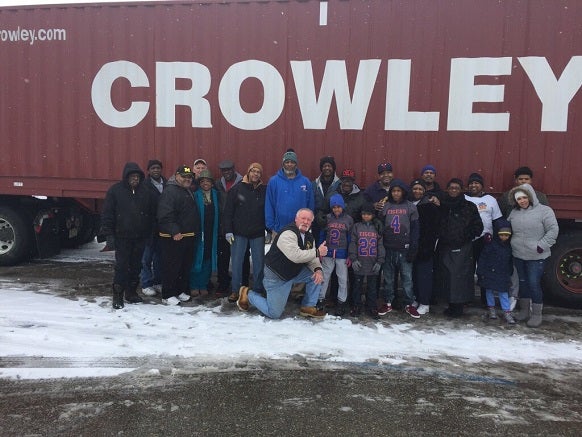 The city of Flint, Mich. is facing difficult times. In the wake of its water crisis, getting access to drinking water was a top need, and Teamsters from Massachusetts to Missouri responded by helping deliver water to the city. But as time has gone on, the needs have become more diverse. And the union is responding again.
Teamsters Joint Council 43 yesterday sent a $7,800 check to the local United Way to assist the charitable group as it attempts to fund ongoing needs such as water filters, lead testing, medical treatments and more. JC 43 represents a dozen Michigan locals – including Local 332 in Flint — and one GCC district council.
"It has always been an honor for the Teamsters to work jointly with the United Way to serve together, especially during this disastrous Flint Water Crisis against all odds," Local 332 President Nina Bugbee wrote to the United Way of Genesee County.
Bugbee noted that 10 Teamster locals in recent months have delivered water to the city. Union members from Kansas City, Indianapolis, Atlanta, Boston, New Jersey, Allentown, Pa., Grand Rapids, Mich. and elsewhere have previously lent a hand to help the city's residents.
Such efforts, of course, will continue. But make no mistake, bottled water or even water filters are not a permanent solution to the problem.
Flint is suffering from failing infrastructure. While the city's water is now being drawn from Lake Huron, the damage has been done. Old service pipes are now leaching lead, and that won't stop even with a change in water sources. Upwards of 20,000 city homes have lead pipes.
Meanwhile, the parents of Flint's 8,000 young children have real reason for worry. Even trace amounts of lead can have health effects that could last a lifetime. That includes lower IQ scores, developmental delays and behavioral issues such as Attention Deficit Hyperactivity Disorder. It is believed that all of them have been exposed.
The Teamsters join with the United Way and other unions and civic groups in lending a helping hand while advocating for a long-term fix that the people of Flint deserve.
« Previous
Next »