Uncategorized
Model for TPP Shows Shortcomings of Trade Deals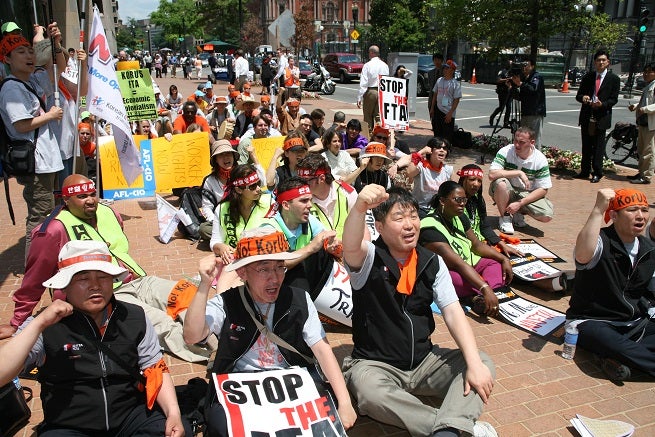 The argument keeps on getting worse for those who support the Trans-Pacific Partnership. New numbers released today show that the U.S-Korea (KORUS) trade deal the TPP is based upon is increasingly a failure, giving everyday Americans little reason to believe that the 12-nation Pacific Rim trade deal would be any better.
Since KORUS was implemented four years ago, the U.S. trade deficit with South Korea has more than doubled. The increase equates to the loss of more than 106,000 American jobs due to this terrible trade deal. Imports from South Korea have grown by 19 percent, while exports to the country have fallen by nine percent. As a result, the trade deficit has grown by $16 billion.
"Much of the TPP text was literally cut and pasted from the Korea agreement, so to see what a disaster the Korea deal has been is a stark warning," said Lori Wallach, director of Public Citizen's Global Trade Watch. She said the dire results shows "why in this election cycle Americans are on the warpath against our trade policies."
Since its enactment, statistics show there has been remarkable consistency in the deal's poor showing. In 47 of the 48 months since KORUS took effect, the trade deficit with South Korea has exceeded the average monthly trade deficit in the four years before the deal.
It's time for trade deals to pay off for hard-working Americans. But the 10,000 tariff cuts made as part of the Korea deal haven't, and there's no reason to believe the TPP will be any different. Less jobs, lower wages and unsafe food and products will be the hallmark of any such deal if Congress ultimately approves it.
The warning signs are there, and elected officials and those seeking office should realize it. Voters are making clear they have significant concerns about trade deals like the TPP. Lawmakers shouldn't make the same mistake twice.
« Previous
Next »