Uncategorized
St. Louis Teamsters Oppose Schnucks' Warehouse Scheme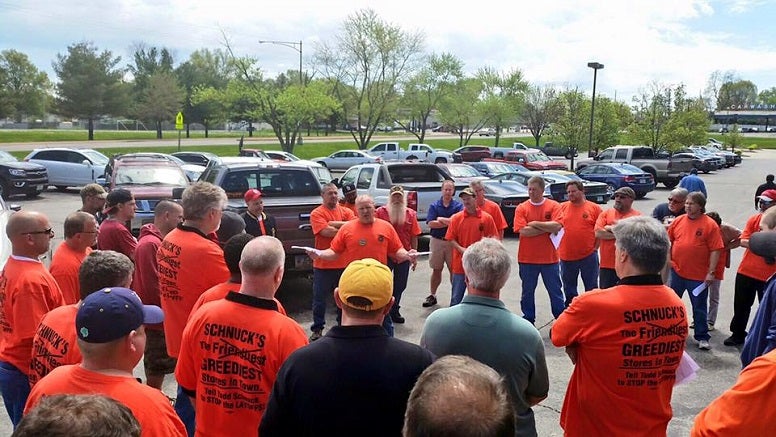 Members of Local 688 in St. Louis are busy rallying public support against a leading local food retailer, Schnucks, and its outsourcing non-union warehouse scheme. And Schnucks shoppers are responding, the St. Louis Labor Tribune says.
The fracas started after the company unexpectedly said that a modernized warehouse it is building in north St. Louis would be staffed by a non-union out-of-state warehouse vendor, costing some 190-200 Teamsters their jobs. It would replace the current 44-year-old plant.
Teamsters Business Representative Mike Schluter told the paper that company representatives did not give any warning about the mass layoffs during talks, which concluded April 4, about possible employment changes at the warehouse.
"They didn't have the guts to tell us directly," he said. "They sent a letter to the management guys and suddenly copies of that letter showed up on tables in the break room."
The mass layoff announcement, in direct contrast to past union support for Schnucks warehouse expansion and other operations – which produced more jobs – pushed Teamsters into more than a month, and counting, of publicity, hand-billing and informational picketing.
"It's pure union-busting," said Local 688 Secretary-Treasurer Mike Goebel. It's also had a devastating effect on the individual workers. "I gave them all I had," Jerry Orr, 54, a 26-year worker with a teenager at home, told the paper. "My body is hurting and many of the guys are broken down from years of lifting. …This is the reward for those years of service?"
Press Associates, Inc., contributed to this report.
« Previous
Next »