Teamsters, Activists Alert David's Bridal Customers About Company's Dire Straits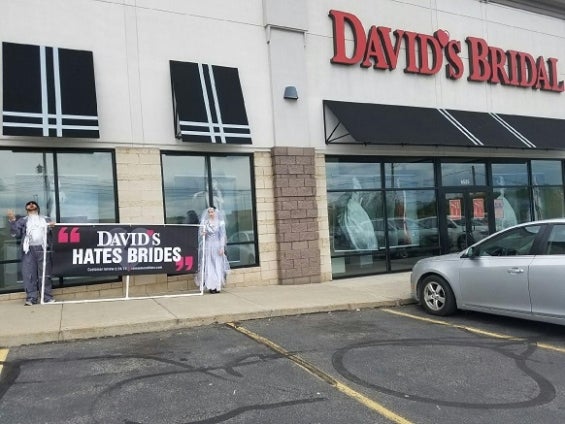 (PITTSBURGH) — David's Bridal customers in the Steel City were greeted today by activists and Teamster members protesting the company's troubled consumer record. Protesters highlighted concerns that the wedding giant's worsening finances might impair its ability to deliver dresses and services to customers as promised.
Protesters held banners that read, "David Hates Brides" and "David's Bridal: Don't Cancel My Wedding." Potential customers also received handbills explaining in more detail the issues and concerns dogging the floundering bridal services company, and directing them to a Facebook page, DavidHatesBrides, which informs and empowers consumers and other stakeholders harmed by the company.
The bridal services company is plagued by customer complaints and unsustainable finances, and is heavily dependent on sourcing its manufacturing in repressive Sri Lanka. Should David's Bridal go bankrupt or undergo substantial restructuring, it is unclear whether it would honor all its existing commitments to brides, employees or suppliers, such as New-Taipei City-based Pretty Fashions Inc.
Customers should be fully informed about the company's difficulties as they purchase their wedding attire.
Selecting a bridal dress and services provider means establishing a relationship of several months and often thousands of dollars, as sizing and fitting and last-minute alterations are a key part of the retail transaction. It is also logistically complicated, involving several customers under one order between brides' dresses, bridesmaids, groom and other members of the wedding party
Steve Vairma, Teamsters International Vice President and Warehouse Division Director, said, "We are alerting David's Bridal customers to the issues arising out of the predatory practices of its owner, CD&R, a Wall Street firm which also owns US Foods. We need to protect our members, as workers and as consumers, from the consequences of corporate greed."
Teamsters Union members and their families play an important role in the American economy as employees and as consumers.
CD&R is a private equity Wall Street firm. CD&R buys targeted companies like David's Bridal, using mostly debt. Typically, it shifts that debt onto the target's books and takes the target's cash. If the targeted company survives, private equity usually sells it several years later, leaving it drained of cash and saddled with the debt private equity used to acquire it.
Moody's Investors Service downgraded David's Bridal junk bonds, citing the company's "unsustainable capital structure." David's Bridal's state of distress is now being actively monitored by Bankrupt Company News in its "Daily Bankrupt Companies Update."
Over the past two weeks, more than 1,000 Teamsters have struck or honored unfair labor practice picket lines at CD&R-owned US Foods, the country's second-largest foodservice provider. Charges that the company has violated federal labor law have jeopardized workers and interrupted service for US Foods' customers, including military bases, schools, hospitals and restaurants. US Foods' private equity owners CD&R and KKR extracted a $666 million one-time payment from the company— which they purchased in 2007—days before announcing an IPO.
Founded in 1903, the International Brotherhood of Teamsters represents 1.4 million hardworking men and women throughout the United States, Canada and Puerto Rico. Visit www.teamster.org for more information. Follow us on Twitter @Teamsters and "like" us on Facebook at www.facebook.com/teamsters.
« Previous
Next »