Uncategorized
UK Official Says Durham Workers Deserve Protection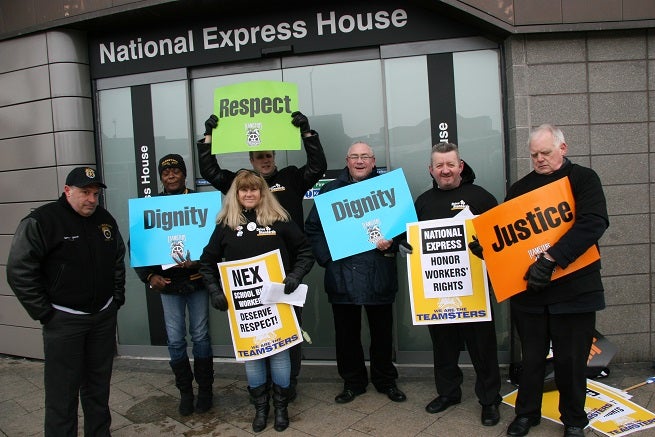 [The following is a blog written by Grahame Morris, a member of the British Parliament who has sided with the Teamsters in its fight against National Express]
Yesterday in Birmingham, England, one of the United Kingdom's largest transport companies held its annual general shareholders meeting (AGM). For many National Express shareholders, this meeting was truly the tipping point.
As the Chair of the Unite Group of MPs [Members of Parliament], I have come to learn a great deal about this company's operations abroad under the name Durham School Services. It differs greatly from its operations here at home. Workers in America report that they are systematically targeted by management with intense pressure when they show any interest in forming a trade union. This pressure leaves many workers fearful for their jobs and their livelihoods, all because they are asserting their rights under the law to collectively bargain.
Durham has developed quite a knack for undermining the voice of workers in America. In places like Santa Rosa County, Fla. or Hayward, Calif., the company acts like a petulant child, refusing to accept the outcome of union elections and then ignoring the federal government orders to bargain with the union.
Workers in Santa Rosa County won their election in February 2013, and yet to this day they do not have the protections and standards provided by a union contract because NEX/Durham continues to fight it in the courts.
One year ago, my colleagues conducted an independent investigation of their own. Their findings were published in May 2015 in a report titled "Broken Commitments, Vulnerable Workers," which details the company's mistreatment of workers in the U.S., exposes horrendous working conditions and helps to raise awareness of a series of unlawful practices at Durham.
Reports such as these have motivated shareholders to introduce resolutions at the company's AGM, calling for an independent investigation and a commitment to address the underlying issues. At last year's AGM, the resolution earned record-breaking support for a labor-related resolution, with 20 percent of shareholders voting in favor. This year's AGM would have marked the third year in a row that such a resolution was on the agenda.
But despite the resolution being properly lodged with the company last December, and with no objection to its validity, the NEX Board of Directors put the agenda for the AGM without the resolution. Claiming that one of the formalities had not been met, NEX chose to silence shareholders without consultation by withholding the resolution on a questionable technical matter.
This heavy-handed and extraordinary effort by the company to stifle meaningful discussion around the company's operations in their most profitable market is deeply concerning, but not surprising. Faced with complaints and first-hand accounts by its workers at past AGMs, NEX has chosen an antagonistic approach, discrediting its own workers and ignoring the demands of its shareholders. The demands are simple – treat workers in America with the same respect that the British workers receive. As British citizens we should expect at least that from our British companies no matter where they operate in the world.
Whether it's in the bus depot or the boardroom, the behavior of National Express is unacceptable.
« Previous
Next »