Uncategorized
Striking Verizon Workers Rewarded for Their Unity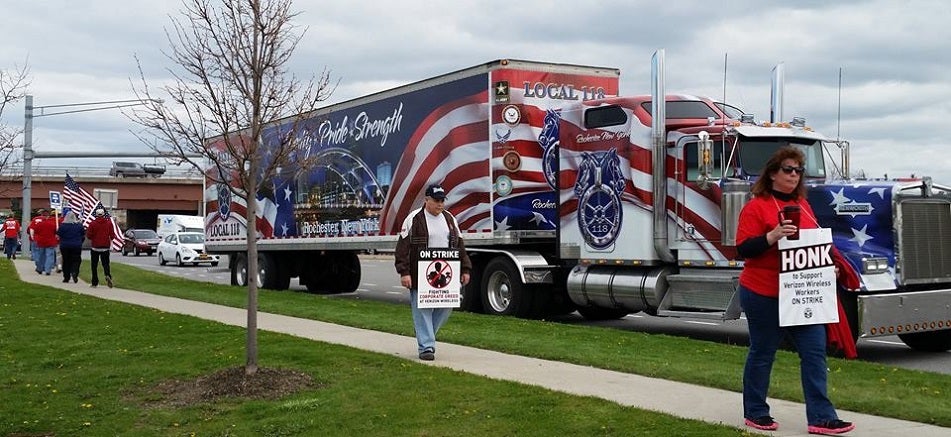 Some 40,000 unionized Verizon workers prevailed in their battle to protect jobs, wages and benefits when the Communications Workers of America and the International Brotherhood of Electrical Workers reached a tentative agreement on a new four-year contract with the telecom giant last Friday.
CWA and IBEW workers are set to return to the job tomorrow after spending more than six weeks on strike. And they will be rewarded for their efforts. Not only will employees get a $1,250 signing bonus, they will also receive a 10.9 percent raise over the life of the contract, at least $2,800 in profit sharing and pension increases.
"Our children and our families have been depending on us to stand up for what's right and what's fair," said Fitzgerald Boyce, a Verizon field technician based in New York. "Striking wasn't an easy decision for our families, but we knew that we had to fight to save good jobs and our way of life. We fought hard and we won."
In addition, Verizon Wireless retail workers in Brooklyn, N.Y. and Everett, Mass. will receive their first contract. And Verizon will add 1,300 new East Coast call center jobs and reverse several other outsourcing initiatives that will create new field technician jobs.
"For the first time, Verizon Wireless retail workers have a union and a fair contract," said Mike Tisei, a Verizon Wireless retail worker in Everett, Mass. "For the wireless retail workers who joined CWA in 2014, that means a better quality of life and meaningful economic security for our families. Today is a great day for my family and working families along the East Coast, and it's only possible because we stood together."
The victory was a long time coming for workers. The Teamsters and other unions stood in unity with Verizon employees. They understood that trimming staff, paying more for health care and getting less in retirement benefits wasn't a good deal.
This new contract is just the latest example of "Union Strong, America Stronger!"
« Previous
Next »