Teamster Mineral County Law Enforcement Officers Go On Strike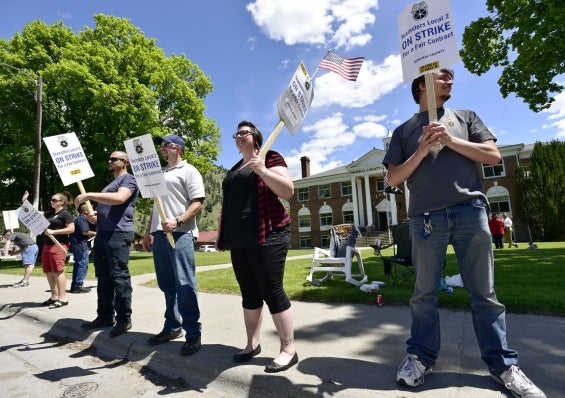 Sixteen workers from Teamsters Local 2 went on strike Monday May 30, 2016. Mineral County, Mont. deputies, detention and dispatch officers voted unanimously to reject the offer Mineral County made to the law enforcement employees.
The striking employees have been without a contract since July 1, 2015. The Mineral County Board of Commissioners has refused to negotiate with the Teamsters thus far without legal action. Local 2 has filed charges with the Montana State Board of Personnel Appeals have had to be filed to get the Mineral County Commissioners to the table over the past two years.
Notice to strike was served to the Mineral County Commissioners on May 27, 2016. The county made no attempt to halt the strike. Low wages and budget cuts have created constant turnover within the ranks of the officers and weakened public safety for the community.
"Our members provide an essential safety service to Mineral County," said Shawn Fontaine, a business agent for Local 2. "We will fight to get improved wages and benefits for all of the dedicated officers, who work every day to keep our community safe."
« Previous
Next »