Uncategorized
Black America is Hit First in Fight Against Workers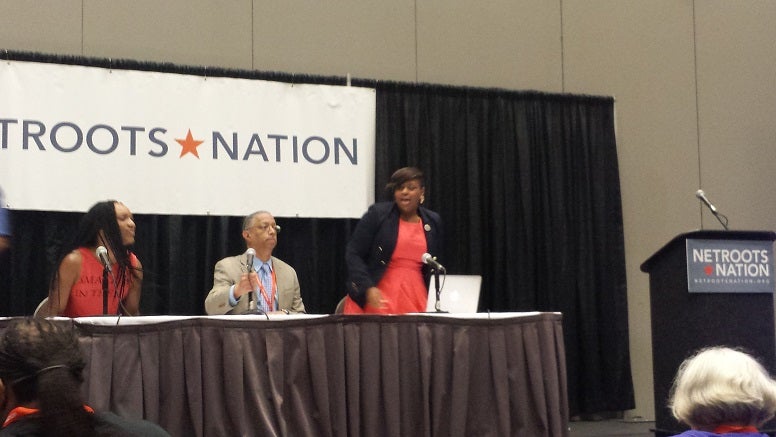 ST. LOUIS – The lack of job opportunities made available to African Americans is a root cause of disenfranchisement within the community, labor advocates said today, and that same tamping down of opportunity is increasingly being used on society at large.
Speaking at the Netroots Nation conference here, several black union officials said that economic gains made in the U.S. are still proving elusive to many minorities. The unemployment rate for African Americans is double that of the overall jobless rate, and that has changed little in recent years.
But while some insist that is because of lower educational attainment rates, that is simply not the case. Bill Spriggs, the AFL-CIO's chief economist, said those raising such arguments are wreaking "mental violence" upon African Americans by stating such false statistics.
As it stands, blacks with an associate's degree only recently saw their unemployment rate fall below that of whites who didn't graduate high school. "Black people fully understand this violence, that you must be twice as good, that you must have an associate's degree to compete with a dropout," Spriggs said.
And that, in turn, take a toll on the community. "The misnomer that if black people got jobs we'd be free isn't true," said Carmen Berkley, the AFL-CIO's Director of Civil, Human and Women's Rights. "We'd be working!"
If African Americans and other minorities want to improve their economic situation, said Fareed Michelen, special assistant to the Secretary-Treasurer at the New York State AFL-CIO, they need to take control of the situation themselves. That's what happened in the Fight for $15 movement and what needs to happen going forward. "We have to organize in a way that stops asking for life preservers, and starts taking the lead in the room," he said.
This is a problem that all Americans need to realize and attempt to solve. For too long, economic problems within the black community have been a leading indicator of widespread issues nationwide. It's time workers realize it.
"We are the canary in the coal mine. The shortening of life expectancy in white workers … was predictable," Spriggs said. "It's a deeper problem in America. If you let the bosses whip somebody, they're going to whip everybody."
« Previous
Next »